2020… What to say about 2020? For LPS, the month of January foreshadowed a good year. Then concerns arose from Asia. Then, Europe. And then here. In Quebec, spring was particularly murderous. We haven't had the tens of thousands of deaths that other countries have had. But we are only 8 million inhabitants. In fact, we had one of the worst ratios in the world during the first wave of COVID-19. But what does it change for LPS, which offers movie reviews? At first, nothing. The months of February and March passed without any repercussions. Then April. Cinema closings, film postponements, and more and more deaths… Since then, 2 members of the team have had COVID-19 and 1 has lost a loved one. We are doing well, I suppose…
As for me, 2020 will probably have been the worst year of my life. And yet I have known ugly years. When you have two small businesses, an event like COVID-19 doesn't go by without leaving some damages. Drop in income, stress, fear… then break up. I am one of the thousands of people who will have seen the pandemic destroy their relationship and their lives. And when the couple is made up of 2 employees of LPS, that complicates the matter even more. The result? The worst fall of my life. Hospital… Consultations… Getting back to work…
So how was 2020? Luckily, there have been a few great movies to get through. Obviously, unlike usual, the majority of the titles I will tell you about here were presented at festivals. This is what happens when cinemas are closed for almost half of the year.
Anyway, in 2020, I have seen 2 interactive films, 80 feature films and 147 short films. So what are the best movies of 2020?
Short films
5 – Fall Out (Chung Jae-Hoon) – South Korea
In a devastated Korea in the near future, a family ventures into an apartment building, hoping to reach the life-saving ice. By all means.
What could be better in 2020 than a film that offers us a terrible end of the world. Here it is not a virus, but a nuclear power plant that is causing chaos. A wonderfully well put together short film that gives goose bumps. With all the environmental stakes, this doomsday scene doesn't quite look like an image from science fiction.
4 – Judith Hotel (Charlotte Le Bon) – France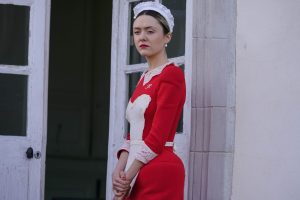 Sleeping forever is the dream of Rémi, an insomniac for 8 years… By booking a room at the Judith Hotel, he offers himself the possibility of a new beginning.
I saw Judith Hotel 30 years ago… Oh no wait, it was in January! You remember, that's when life was simpler. Insomnia. Have you ever suffered from insomnia for a long time? Rémi has been suffering from it for 8 years. This film is simply surreal, with a start as strange as the end is surprising. A short film that fits well with the trend of films about suicide places. The first of a dozen I saw in 2020. I guess there is no such thing as fortuity in life.
3 – Weltschmerz (Lisa Mausbach) – Germany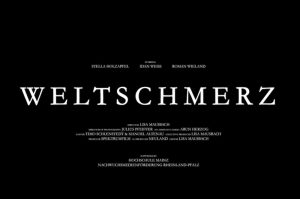 2050. At that time, the climate crisis will have a huge impact on our lives. On top of that, the three protagonists also have to face their inner demons.
Weltschmerz is a poetic short film about the melancholy of its own insufficiency as a consequence of human destructiveness. No, it's not a happy movie. I imagine 2020 was a good year to release this kind of movie. There have been a lot of films about ecological disasters in that dark year.
By the way, the title of the film is a German word that describes a feeling of unease or unhappiness..
2 – The Announcement (Zach Bernbaum) – Canada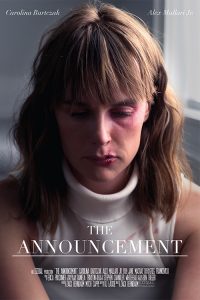 Following a traumatic incident, Olive and Jonny face what they have done and what they have lost.
The Announcement is a particularly effective suspense. A man. A woman. Swollen faces. Incredible camera movements. One long sequence shot. You can see it for free by following the link (on the title).
1 – Bora Bora (Frédéric De Pontcharra) – France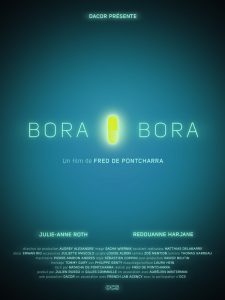 Lucie, a mother who has just come out of a deep coma, gives her doctor an update on her first week at home since leaving the hospital. And she's not happy, oh no.
2 characters and quality dialogues. This is what it takes to make a great movie. Imagine waking up from a coma and realizing that you don't love your life. Bora Bora is 15 minutes of a behind closed doors between this poor woman and her doctor who will try to make her come to her senses. A movie that I would watch over and over again.
Feature films
5 – Druk (Thomas Vinterberg) – Denmark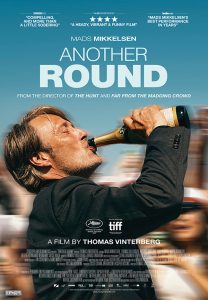 There's a theory that we should be born with a small amount of alcohol in our blood, and that modest inebriation opens our minds to the world around us, diminishing our problems and increasing our creativity. Heartened by that theory, Martin and three of his friends, all weary high school teachers, embark on an experiment to maintain a constant level of intoxication throughout the workday. If Churchill won WW2 in a heavy daze of alcohol, who knows what a few drops might do for them and their students?
When you're just a shadow of yourself, you're ready to try anything to find yourself. This is what Martin does by wanting to validate whether the theory is true. A funny, sad, biting and human film. And in addition, it is possible to watch it online.
4 – Les chatouilles (Andréa Bescond and Éric Metayer) – France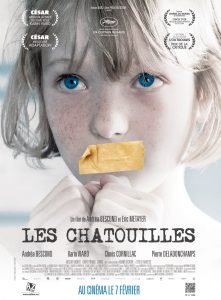 Odette is eight years old, she loves to dance and draw. Why would she be suspicious of a friend of her parents who suggests that she "play tickle"? Adult, Odette dances her anger, frees her word and embraces life…
2020 will have made me see a lot of sensitive films too. Not so much sensitive subjects for everyone, rather sensitive subjects from a more personal point of view. Like Druk, Les chatouilles falls into this category.
Lots of films deal with the sexual abuse of children and tweens. My number 4 is just well done. It touches on a very important point which is not often shown: parents tend to disbelieve it or to downplay the importance of the aggression.
Do you know someone who has been sexually assaulted? I am sure you do. But you probably don't know. And when the child told their parents about it, what happened? Too often, nothing has happened. It dies in the bud. After all, why put a child through a harsh and terrifying trial? Better let the abuser get away with it, right?
3 – I am Greta (Nathan Grossman) – Sweden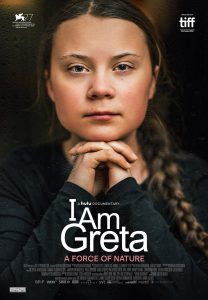 The story of teenage climate activist Greta Thunberg is told through compelling, never-before-seen footage in this intimate documentary from Swedish director Nathan Grossman. Starting with her one-person school strike for climate action outside the Swedish Parliament, Grossman follows Greta—a shy student with Asperger's – in her rise to prominence and her galvanizing global impact as she sparks school strikes around the world. The film culminates with her extraordinary wind-powered voyage across the Atlantic Ocean to speak at the UN Climate Action Summit in New York City.
Who does not know this exceptional young woman? And yet there is so much to learn about her. For me, she is a heroine. For others, she's a fu**er. With I Am Greta, you can actually discover the real girl behind the myth.
2 – Favolacce (the D'Innocenzo brothers) – Italy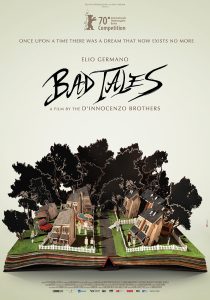 Once upon a time, in a small family suburb on the outskirts of Rome, the cheerful heat of summer camouflages a stifling atmosphere of alienation. From a distance, the families seem normal, but it's an illusion: in the houses, courtyards and gardens, silence shrouds the subtle sadism of the fathers, the passivity of the mothers and the guilty indifference of adults. But it's the desperation and repressed rage of the children that will explode and cut through this grotesque facade, with devastating consequences for the entire community.
The disillusionment of children, the generation without a future… Here is another theme that has come up often in recent years. But Favolacce (Bad Tales) is particularly unsettling. Not only does this Italian film show how unhappy and disillusioned children are about the possibilities the future holds, but it also shows adults are just as disillusioned with life. A film told like a tragic fairy tale.
1 – Ecstasy (Moara Passoni) – Brazil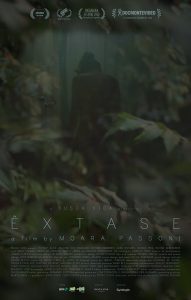 In Clara's life, the personal and the political are inextricably linked. She lives with her parents in the poor suburb of São Paulo which is taken over by organized crime. As her mother becomes an important member of Congress in Brasilia, her family moves to the Federal District. It is there, as Clara feels that her mother's life is increasingly threatened, that she enters a downward spiral of self-destruction, in which suffering gives her life force. Because the less she eats, the more power and energy Clara feels. As she keeps herself hungry, Clara dives into a routine based on calculations, repetitions and rituals: she stops having her period and begins to feel ecstatic as she "controls" the time. She tries to imagine a geometry of hunger, an impossible theorem where her calculations of destruction incite liberation. At the age of 15, with 37 heartbeats per minute and weighing 29 kilograms on a 1.64 m body, Clara was hospitalized.
My top 5 ends with another depressing movie. This time, it is not the end of the world or the ecological crisis that is the subject, but rather anorexia. You have seen a lot of films on this almost boring subject? Well you've never seen one like this. A masterful soundtrack, an incredible actress and something shocking: the deprivation of food brings the body into a state of ecstasy. Ouch!
***
And you, how was your 2020?