« What is youth?
A dream.
What is love?
The content of the dream »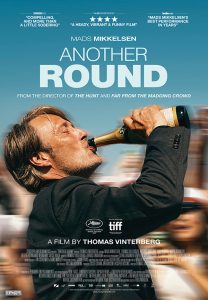 There's a theory that we should be born with a small amount of alcohol in our blood, and that modest inebriation opens our minds to the world around us, diminishing our problems and increasing our creativity. Heartened by that theory, Martin and three of his friends, all weary high school teachers, embark on an experiment to maintain a constant level of intoxication throughout the workday. If Churchill won WW2 in a heavy daze of alcohol, who knows what a few drops might do for them and their students?
For Another Round (Druk), Thomas Vinterberg reconnects with Mads Mikkelsen. This time he offers us a wonderful film about the effect of routine, time and alcohol on life.
Crossing time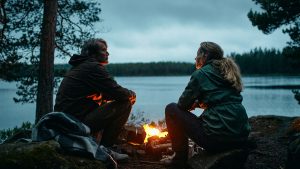 In Another Round, we meet four good men, as the youngest turns 40. We discover them in a world we know too well: a boring and mediocre world, which sees them locked in the monotony of everyday life and rooted in patterns and habits. The freedom of youth, craziness and weightlessness gradually became distant memories. At the same time, they see death approaching – they have exceeded half their life expectancy – and seek to regain these sensations. This is what will lead them to conduct an experiment involving systematic alcohol consumption.
Martin is probably the one who suffers the most. He teaches without any passion, to the point that it is his students who must wake him up by filing a complaint. His marriage is a succession of days without conversations or contact with his wife and teenagers. He is, in the end, the sad, and fair, portrayal of many of us. Stuck in a life that goes too fast and makes the decisions for him, he is caught somewhere between his childhood dreams and the grim reality. As for his 3 friends and colleagues, their life is different, but not really more exciting: a young dad of 3, exhausted by lack of sleep and lack of free time, and two single people who have nothing else than their work.
While the title suggests that the crux of the story is alcohol, we eventually understand that it is the passage of time and life that is the real theme of this film.
Homage to life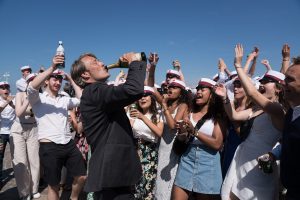 With this feature film, the director examines and salutes the ability of alcohol to liberate people. You could see it as a kind of tribute to life. Vinterberg explains it this way:
The movie assumes a humoristic and – in some eyes – scandalous approach to a serious topic. ANOTHER ROUND is intended to be a multi-faceted story that at the same time provokes and entertains, makes us think, cry and laugh within the length of the movie. And hopefully leaves food for thought and debate for an audience who lives in a world which, to an increasing degree, is defined by puritanical rhetoric outwardly, but has a rather high alcohol intake even from a relatively young age.
I guess the moral of this whole thing is that moderation tastes much better. 😉
Perverse effects?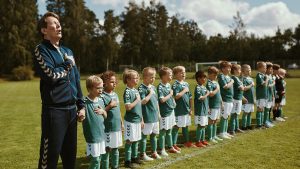 Surprisingly, the first results of the experiments of the four accomplices are positive and the teachers' small project turns into a real academic study. Their classes and results continue to improve and the group feels alive again. But, as the boundaries are pushed back, the results start to diverge. Some of the participants see further improvement and others derail. It is becoming increasingly clear that while alcohol may have fueled great results in the history of the world, some daring acts have consequences.
Another Round is really well done. This negative result, rather predictable in itself, strikes us as a surprise. You quickly get convinced, by the first results of what starts out as a game, that alcohol ultimately has many better properties than you might imagine. After all, the film is based on the (real) theories of Norwegian psychologist Finn Skårderud that a man is born with a BAC of 0.05.
But still…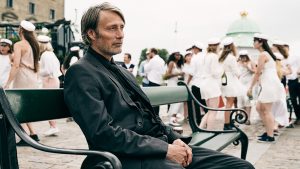 "I never drink before breakfast." This quote is from Churchill. This man, who is considered a great man, was a notorious alcoholic. And yet, he did great things. And so, the question arises: does alcohol have more positive effects than negative effects on humans? Ok. Probably not.
Of course, Vinterberg's film will not answer this question clearly. But we can still assume that, although the negative effects are very real, this liquid also offers moments of lucidity.
As for me, Another Round (Druk) had me – and still makes me – reflect on life. And this is its great quality.
Rating: 9/10
Trailer