Cinéfranco celebrates its 25th anniversary! And, for the second consecutive year, Le Petit Septième is proud to be an official cultural partner. Once again, the Toronto festival offers the best of French-language cinema from Quebec, Canada and all over the World.
Considered the biggest showcase of French-language cinema in English Canada, Cinéfranco will present 19 feature films and a program of short films at the Ted Rogers Hot Docs Cinema, the Royal and Cineplex Scotiabank in Toronto, while 9 feature films and 2 short programs footage (Quebec, International) are available online, and are geoblocked in Canada.
On the program
Opening Film — Tourner pour vivre / Shoot to Live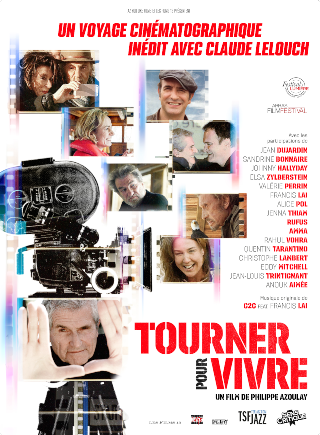 A true celebration of French cinema through the eyes, words and work of famous French director Claude Lelouch who is still making films at the age of 84. His 60 films in more than 60 years of career include classics such as " Un homme et une femme", " Loin du Vietnam ", "Les Miserables" and " Vivre pour vivre". Philippe Azoulay's documentary filmed Lelouch for 7 years and features Anouk Aimée, Sandrine Bonnaire, Johnny Hallyday, Karl Lagerfeld, Christopher Lambert, Quentin Tarantino and Jean-Louis Trintignant.
Closing film — Les 12 Travaux d'Imelda
Adapted from the trilogy of short films by Quebec director Martin Villeneuve and inspired by the story of his grandmother, Robert Lepage, Ginette Reno and Villeneuve are the stars of this feature film which will be released in Quebec on October 28, 2022. Imelda is not at peace and wants to settle things with her family before her 100th birthday.
With Martin Villeneuve in attendance.
A long-time defender of filmmakers and films presenting the multiple facets of women's reality, Cinéfranco highlights 9 feature films in the "Women's films" section:
– Betty Boop Forever (France/USA): the history of feminism through the cartoon character with changing messages dictated by world events. [Documentary]. Directed by Claire Duguet, former assistant to Agnès Varda.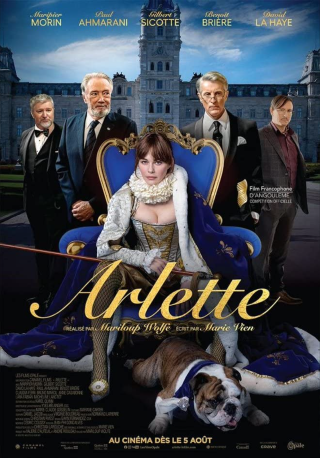 – Arlette (Quebec) — the controversial film by Mariloup Wolfe: Women and Politics — Approached by the Prime Minister of Quebec (Canada) to rejuvenate the image of his government, Arlette Saint-Amour becomes, overnight, Minister of Culture. [Dramedy]
– La Beauté éparpillée – Scattered Flower (Morocco): Slavery — Based on the true story of a young slave woman whose gift for music will draw her into the life of her master and his harem. [Drama]
With Martin Lahcen Zinoun in attendance.
– L'Homme parfait / Uman The Perfect Man (France): Working women — Tired of working and taking care of children and household chores, Florence buys Bobby, the handsome robot Uman3, to help her. Franck, the husband, feels threatened and tries to destroy him to save his couple. [Comedy].
– Une Femme du monde / Her Way (France): Sex worker – film directed by Cécile Ducrocq with Laure Calamy (Call My Agent). Marie has been a prostitute for 20 years. She has her sidewalk, in Strasbourg, her regulars, her freedom… and a son, Adrien, 17, on the verge of delinquency. To ensure his future, Marie wants to pay for his studies. But she needs money now. [Drama].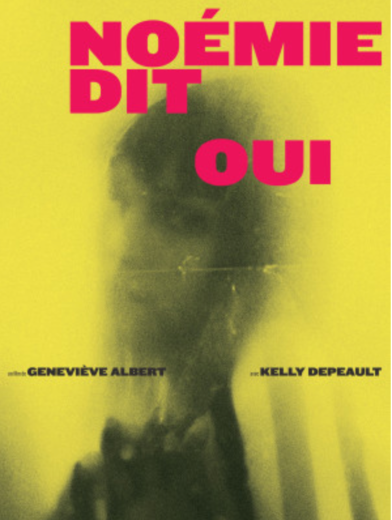 – Noémie dit oui / Noémie says yes (Québec): A hard look at adolescent prostitution. Noémie is attracted to a 17-year-old pimp who meets her through his friend at the youth center where she lives, promising a road trip with him for a one-off job at the Grand Prix.
With the director Geneviève Albert in attendance.
– Babysitter (Quebec): After a sexist joke goes viral, Cédric loses his job and embarks on a therapeutic journey to free himself from sexism and misogyny. He and his girlfriend hire a mysterious, rather liberated babysitter to help them shake things up. Screenplay written by Catherine Leger (Charlotte a du fun, La Déesse des mouches à feu) based on her play of the same title.
With Catherine Leger in attendance.
– Kung Fu Zohra (France): Director Mabrouk El Mechri has a remarkable approach to domestic violence. A "Karate Kid" approach to counter domestic violence. A daring "comedy". Convinced that a divorce would separate her from her daughter, Zohra cannot bring herself to leave her abusive husband, suffering in silence. Everything changes when she meets Chang Sue, a security guard at the gym where she works. Chang Sue is a Kung-Fu master… and is willing to teach her the moves she needs.
Other notable films include:
– Kompromat (France): Directed by Jérôme Salle, it is a captivating thriller based on the true story of the director of the French Alliance in Siberia, arrested and imprisoned by the dreaded FSB. Accused of a terrible crime, Mathieu quickly realizes that someone has set up a case from scratch with the Russian Federal Security Service; he was trapped. Arrested, imprisoned and isolated, Mathieu has nowhere to go. Defending yourself is impossible.
– Rosie (Quebec): This presentation, after its world premiere at the TIFF, explores themes of identity, family, love and struggle through a queer and Indigenous lens. Written, produced and directed by Métis filmmaker Gail Maurice, Rosie tells the story of an orphaned 6-year-old Indigenous girl taken in by her adoptive family in Montreal in the 1980s.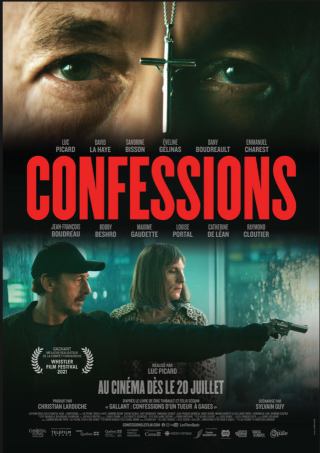 – Confessions (Québec): Director Luc Picard's fifth feature film is a thriller, adapted from the documentary book Gallant: Confessions of a Hitman by journalists Éric Thibault and Félix Seguin from the Bureau d'Enquête du Journal de Montréal. One of Montreal's most prolific hitmen, having committed twenty-eight murders and fifteen attacks on bikers and mafiosi, Gallant also works in conjunction with the police and doesn't hesitate to sell out those around him.
With Luc Picard in attendance (to be confirmed).
– Tropique de la violence / Tropic of Violence (France): An overview of Mayotte, the poorest French department in the Indian Ocean. The captivating adventure of a little boy who struggles to survive in a hostile environment. Directed by Manuel Schapira.
Franco-Canadian short films: very sensitive themes of the environment, identity, a few historical moments, personal opinions, with the presence of directors: Paul Davis (Yukon), Katia Café-Fébrissy, Pascaline Lebras, Marcel Grimard, Nicole Blundell from Ontario.
Theatrical screenings — from Friday, November 4 to Tuesday, November 15, 2022
Ted Rogers Hot Docs Cinema (555 Bloor St West)
The Royal (608 College St.)
Cineplex Scotiabank (259 Richmond St W/at John St)
Friday, November 4 — Opening Night
19h30, Cinema Ted Rogers Hot Docs
Tourner pour vivre / Shoot to Live
Saturday November 5
11h30, Scotiabank Fragile / Soft Shell Hard Shell
14h30, Scotiabank, Rosie
18h00, Scotiabank, Maigret
Sunday November 6
11h30, Scotiabank, Arlette
16h00, Scotiabank, Noémie dit oui / Noémie says yes [Q&R]
Monday, November 7
19h00, Scotiabank, L'Homme parfait / Uman the Perfect Man!
Tuesday, November 8
19h00, Scotiabank, La Vraie famille / The Family
Wednesday, November 9
19h00, Scotiabank, Une Femme du monde / Her Way
Thursday, November 10
16h30, The Royal, Kung Fu Zohra
19 h 30, The Royal, Babysitter [Q&R]

Friday November 11
18h30, Hot Docs, Kompromat
Saturday, November 12
14h30, Hot Docs, Jumeaux mais pas trop
18h00, Hot Docs, Confessions [Q&A (à confirmer)] (on vous en parle dans les jours à venir)
Sunday, November 13
11h30, The Royal, Courts métrages franco-canadiens [Q&R]
14h30, Scotiabank, La Beauté éparpillée / Scattered Flower [Q&R]
Monday November 14
19h00, Scotiabank, En roue libre / Freestyle
Tuesday, November 15
16h30, Hot Docs, Irréductible / Employé du mois
19h00, Hot Docs – Soirée de clôture, Les 12 Travaux d'Imelda [Q&A]
Feature films online — from Thursday, November 3 to Sunday, November 20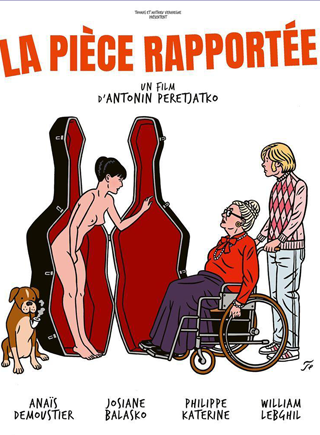 Betty Boop Forever
Alors on danse
Ténor
La Pièce rapportée
Mes très chers enfants
A Plein temps
Une femme du monde
Tropique de la violence
Le bruit des moteurs
Online Short Film Programs — Thursday, November 3 through Sunday, November 20
Quebec courts
International courts
TICKETS
For more information, go to https://www.cinefranco.com
ONLINE (until November 20 at 11:59 p.m.).
Enjoy movies for 48 hours after you start streaming.
https://watch.eventive.org/cinefrancospecial25
Single tickets in person and online: $10
Seniors/students in person and online: $8
Tickets can be purchased on site (cash only).
For the complete program and festival details: