There are more and more options for watching movies and series without leaving the house. Some would say that there are now too many options. Indeed, the possibilities are constantly expanding.
There was a time when you cut the cable and subscribed to a service and that was enough. Personally, I only subscribe to one series service (Prime Video), but I supplement with Sportsnet Now to watch sports as well. The majority of my friends subscribe to 3 or 4 services. Although it's still cheaper than when you had to subscribe to a big cable package, you're slowly getting closer to that famous amount that caused people to cut the cord.
Where are we now?
Now that streaming is the norm, it's interesting to see who dominates the market. As is usually the case, the first to arrive is at the top of the list.
Amazon Prime Video and Disney+, therefore, both remain far behind the global streaming giant, Netflix, which occupies first place with a 26% market share. Netflix also held the top spot in the country for all of 2021. Paramount+, newly relaunched in March 2021, joined the chart with a 2% market share. I should mention that Paramount+ Canada is different than the US version. The US version offers access to a wider range of movies and TV shows.
But with Netflix dominating, Prime Video and Disney+ well established, what are the chances of Paramount to actually break into the market. We must not forget Crave, which has managed to establish itself well, especially in Quebec. If we add to that the more specialized channels and Ici Tou.tv, it is hard to imagine that there is still room for a generalist.
Moreover, when we look at the evolution of the streaming market in 2022, we see that it is not changing much. Apart from Prime Video and Disney+ which continue their slow growth, the rest of the shares remain rather stable.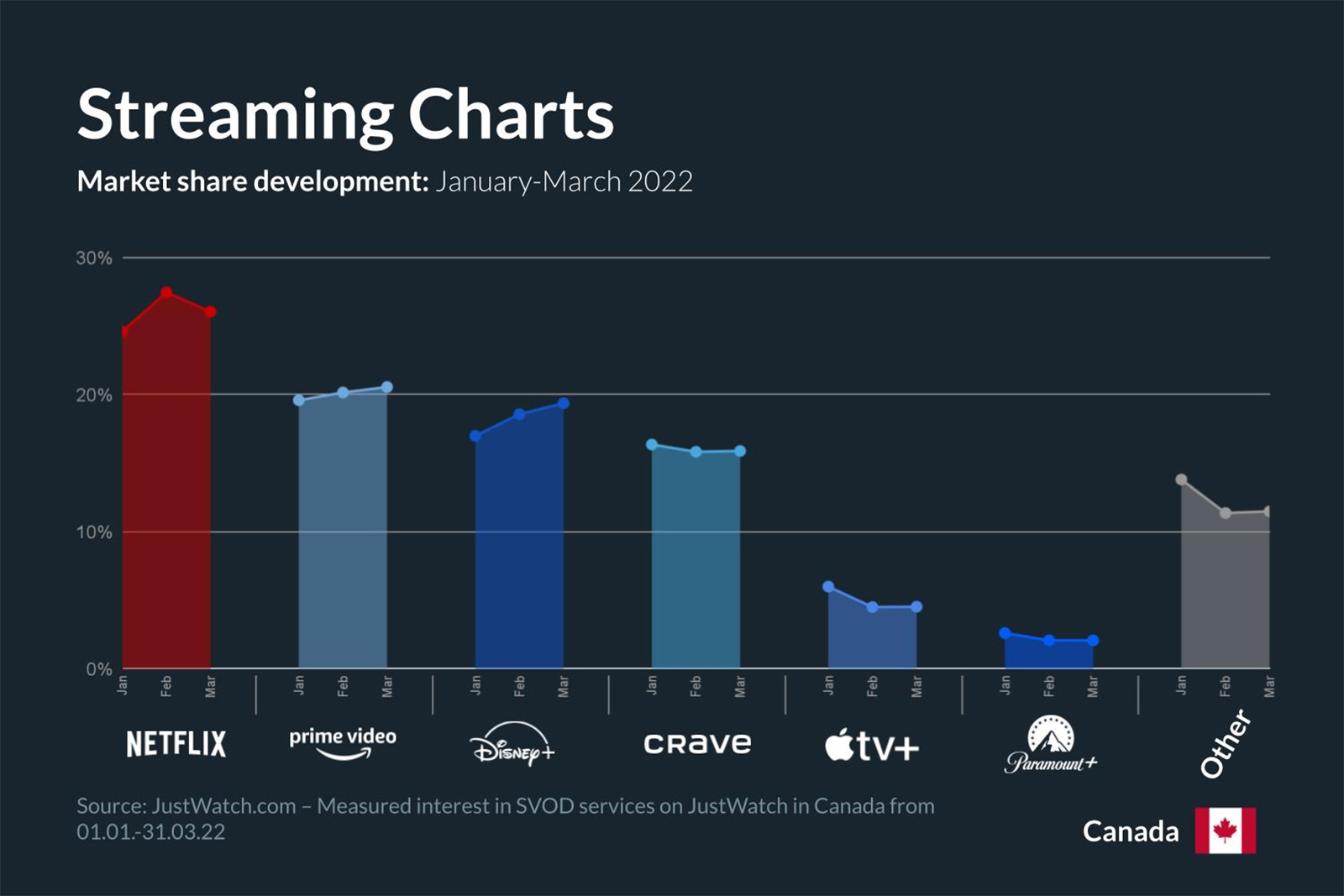 Evacuating some steam
I want to point out an illogicality through all that. In Canada, we have what is called a public broadcaster: CBC/Radio-Canada. What this entity produces is therefore paid for by all of us, Canadian citizens. So how come we have to pay $9 a month to watch CBC/Radio-Canada productions via the Tou.TV app? What is even more absurd is that several foreign programs broadcast on Tou.TV are free, while many programs from here are included in the "extra" package.Perhaps our public broadcaster should review its mission. It seems to have forgotten it somewhere between the sale of advertising space and subscription costs. For this reason, I categorically refuse to subscribe to Tou.TV. What about you?