What's new in February 2022 on Prime Video? A nice list of series and 1 movie.
Movies
I Want You Back (Jason Orley) — USA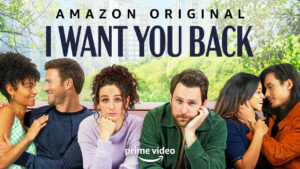 Peter (Charlie Day) and Emma (Jenny Slate) were total strangers, but when they meet, one thing instantly bonds them: they were both unexpectedly dumped by their respective partners, Anne (Gina Rodriguez) and Noah (Scott Eastwood), on the same weekend. As the saying goes, "misery loves company," but their commiseration turns into a mission when they see on social media that their exes have happily moved on to new romances, Anne with Logan (Manny Jacinto) and Noah with Ginny (Clark Backo). Terrified that, in their 30s, they have lost their shot at happily ever after and horrified at the prospect of having to start over, Peter and Emma hatch a desperate plot to win the loves of their lives back. Each will do whatever it takes to put an end to their exes' new relationships and send them running back to their arms.
It's February, and what could be better (or worse) than a romantic comedy, just in time for Valentine's Day?
Available February 11, 2022.
Series
Reacher — USA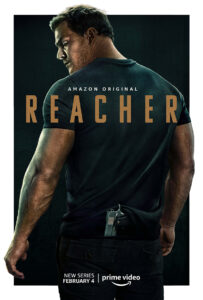 Reacher follows Jack Reacher, a veteran military police investigator who has just recently entered civilian life. Reacher is a drifter, carrying no phone and the barest of essentials as he travels the country and explores the nation he once served. When Reacher arrives in the small town of Margrave, Georgia, he finds a community grappling with its first homicide in 20 years. The cops immediately arrest him and eyewitnesses claim to place Reacher at the scene of the crime. While he works to prove his innocence, a deep-seated conspiracy begins to emerge, one that will require Reacher's keen mind and hard-hitting fists to deal with. One thing above all is for sure: They picked the wrong guy to take the fall.
Based on Lee Child's novel Killing Floor, the first season rocks the floor. Prison Break fans will be happy to know that it's the same screenwriter who brings the novel to the screen.
Available February 4, 2022.
Phat Tuesdays (Reginald Hudlin) — USA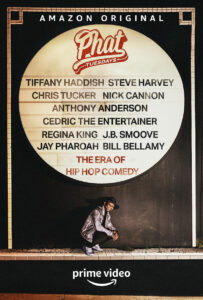 Phat Tuesdays features some of today's most famous comedians and personalities, including Anthony Anderson, Tichina Arnold, Nick Cannon, Dave Chappelle, Snoop Dogg, Cedric the Entertainer, Tiffany Haddish, Steve Harvey, Lil Rel Howery, Regina King, Jo Koy, Luenell, Flame Monroe, Jay Pharoah, Craig Robinson, JB Smoove, Chris Tucker, Kym Whitley, and more, and tells the unbelievable story of how Guy Torry moved mountains to launch an all-Black comedy night at The Comedy Store. What started as an experiment in '90s Los Angeles turned into a must-see, hilarious experience, elevating Black voices to have their turn on the stage.
Here is a documentary series giving way to the history of black people in the West of the United States. Not to be missed for all those who want to discover a piece of this History that we do not always know well, in Canada.
Available February 4, 2022.
Sofia Niño De Rivera: Lo Volvería a Hacer (Sofia Niño De Rivera) — Mexico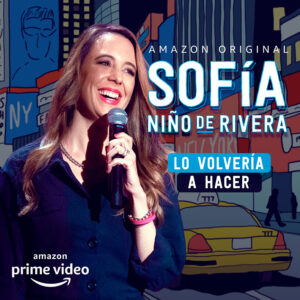 Sofía films her 3rd comedy special in NY in front of a crowd from all parts of Latin America. 11 years ago she saw Stand Up for the first time live in NY and today she becomes the first female Mexican comedian to record a comedy special in one of the most iconic cities in the world for this genre. The first time she got on stage was in a little bar in SoHo where she had to pay to go on stage and today she has 2 sold out shows at The Gramercy Theatre where she also produced and directed this show for Amazon Prime Video. She tells us about the time she went to jail, how much she misses her country when she travels abroad, how horrible it is to have kids and why she has two. "Lo Volvería a Hacer" leaves you with the urge to repeat all those things that you might regret.
For lovers of comedy as well as for those interested in American society.
Available February 11, 2022.
The Marvelous Mrs. Maisel (Amy Sherman-Palladino et Daniel Palladino) — USA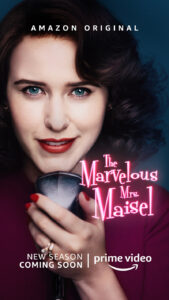 It's 1960 and change is in the air. Looking to hone her act, Midge finds a gig with total creative freedom. But her commitment to her craft—and the places it takes her—creates a rift between her and the family and friends around her.
The highly anticipated season 4 of Mrs. Maisel finally arrives. Are you interested in the musical universe and the role of women in the United States of the 60s? You won't want to miss this series.
Available February 18, 2022.
LOL: Last One Laughing Canada — Canada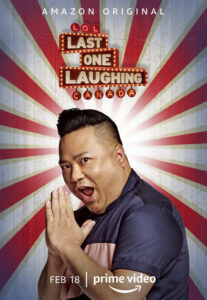 Jay Baruchel hosts the much-anticipated Canadian version of the international hit comedy series LOL: Last One Laughing, where 10 of Canada's top comedic talents face-off in a six-hour wacky competition, their objective is to eliminate others from the house by making each other laugh, while not laughing themselves. The comedian who doesn't break a smile and outlasts their competitors wins the grand prize of $100,000 for their charity of choice.
The series uses over thirty cameras to catch all of the deranged hijinks during the unpredictable competition as the all-star cast bring their various styles to the table, including stand-up, musical performance, improvisational, and physical comedy, among others.
Available February 18, 2022.
Lov3 (Mariana Youssef, Gustavo Bonafé et Felipe Braga) — Brazil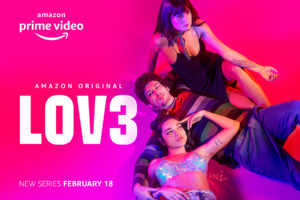 Ana (Elen Clarice) and the twins Sofia (Bella Camero) and Beto (João Oliveira) are siblings that live in São Paulo and refuse to experience love and sex in the same way as their parents. This becomes even stronger when their mother, Baby (Chris Couto), decides to leave her husband, Fausto (Donizeti Mazonas), and end a 30-year marriage. Ana, the eldest, is 33 years old and back with her ex-husband, Artur (Drayson Menezzes), without, however, giving up on having relationships with whoever she wants. Sofia is 24 years old, has just been fired from one more job and is sharing a house with a throuple that doesn't recognize her as part of the relationship. Finally, Beto is a young gay man who is only attracted to straight guys who end up dumping him, and now he needs to build up his self-esteem.
Welcome to Intimate Relationships, 2022 Version. Good luck!
Available February 18, 2022.