The Short List with Suroosh Alvi is a series of 9 episodes of, what they call, some of the world's best documentaries, curated by VICE founder Suroosh Alvi. Each episode features a full documentary accompanied by a presentation by Alvi and a conversation with the filmmakers on the films' subjects.
The series aims to bring the conversations outside of the road of the film festival crowd. That is why we have decided to bring that series to our readers.
The films
We have decided to present the 9 films to you, but to cover two of them in more depth. Unfortunately, this is a choice justified by the lack of time. But don't be shy to check them out, they're all available for free.
Showgirls of Pakistan (Saad Khan) – Pakistan / United States
Enter the universe of three mujra dancers in Pakistan as they dodge state censors and violence to vie for stardom. Intimate verite, phone calls, social media streams and home videos provide a never-before-seen look into the underbelly of the Punjabi theater business and the women who fight to play by their own rules.
Toxic Pigs of Fukushima (Otto Bell) – USA
The Great East Japan Earthquake of 2011 triggered a tsunami, nuclear meltdown and mass evacuations in Fukushima Prefecture. Today, as part of a Government push to encourage resettlement, local hunters have been enlisted to dispose of radiated Wild Boars that now roam the abandoned streets and buildings. This short film follows a lone hunter into an isolated and changed landscape. Along the way, other citizens who still live near the reactor share their perspectives on the aftermath. "The Toxic Pigs of Fukushima" was inspired by the photographs of co-producers Toru Hanai and Yuki Iwanami. The original score was written and performed by renowned ambient artist Midori Takada.
Sakawa (Ben Asamoah) – Netherlands / Belgium
There's a treasure trove of information to be found in the poisonous e-waste in Ghana. It's a relatively simple matter to open up hard drives and gain access to photos and the personal details of their former owners. Equipped with a name and address, almost anybody can be found online. The film follows Ama, a young mother, who tries to become an internet con artist. A more seasoned scammer tries to teach her the craft, but she doesn't appear to have much of a knack for it. One Dollar is a master at his craft and knows how to use his fake account to drive men crazy: they fall for the photo of a buxom woman—and for his high-pitched voice. But how much compassion can you expect from someone who is buying €250 worth of fish for his boss every week, while he is only earning €12 a month himself? 
Sakawa shows these fraudulent activities from the perspective of Belgian-Ghanaian director Ben Asamoah, who portrays the characters from his own African perspective.
Sakawa is one of those shocking films. It's the kind of thing we know exists, but we prefer to ignore it. And where the film gets interesting is that these young con artists appear to us as the good guys. Maybe it's because they don't hide their faces. Maybe it's because most of them have a hard time surviving. Maybe it's just that the people who get defrauded are anonymous in this documentary. But in the end, aren't these young people also victims?
And they are friendly. My favorite quote comes from One Dollar when he talks about his potential clients (victims) from the UK: Every guy called Peter is stupid. I know, it makes me want to get started too. 😉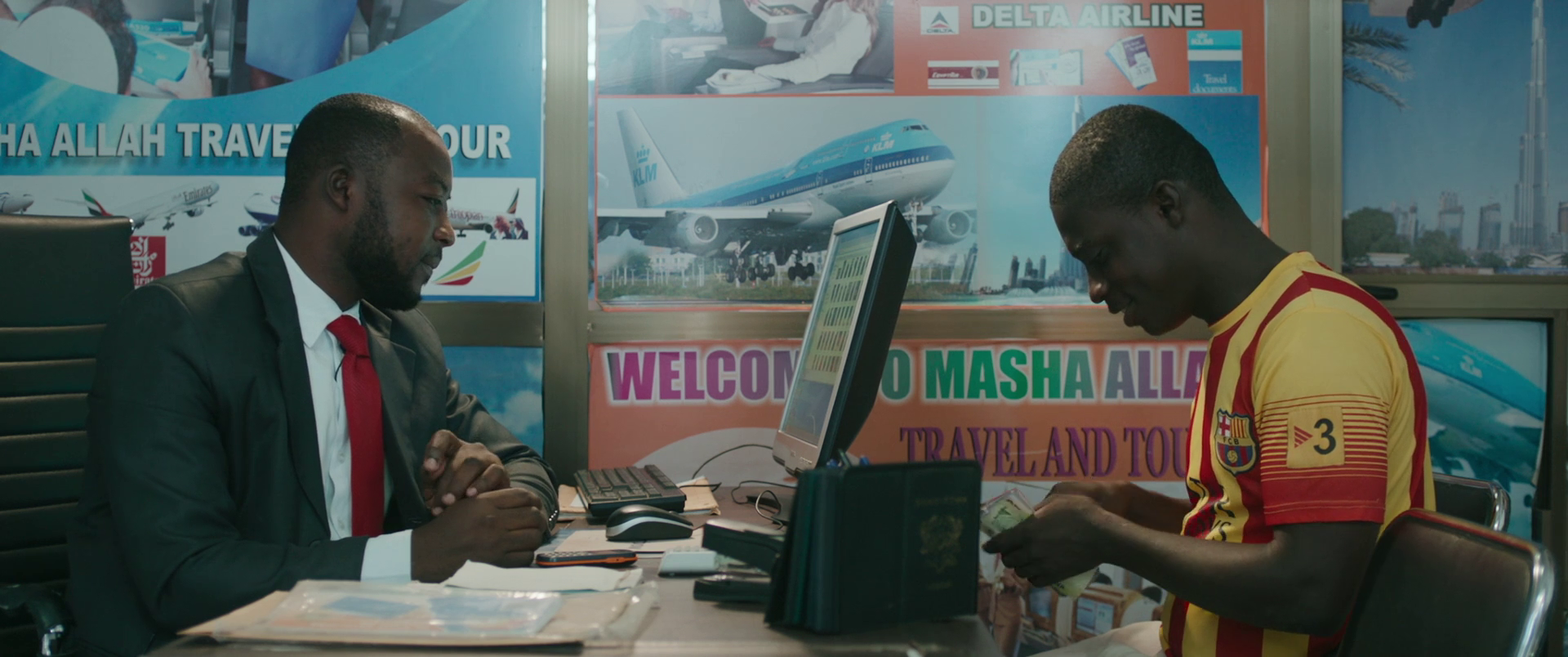 Technical sheet :
Original title: Sakawa
Duration: 81 minutes
Year: 2018
Country: Netherlands / Belgium
Director: Ben Asamoah
Screenplay: Ben Asamoah
Dope is Death (Mia Donovan) – Canada
The story of how Dr. Mutulu Shakur, stepfather of Tupac Shakur, along with the Black Panthers and the Young Lords, combined community health with radical politics to create the first acupuncture detoxification program in America in 1973 – a visionary project eventually deemed too dangerous to exist in America.
The Prophet and the Space Alien (Yoav Shamir) – Israel / Austria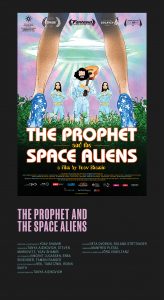 As a young man, Rael was visited by aliens who proclaimed him to be 'the last prophet'. That was in the 1970s. Today, the charismatic Frenchman is the leader of the world's largest UFO religion. The filmmaker Yoav Shamir has been given access to the cult, its leader and his faithful disciples. All the cards are laid on the table from the outset, there are no hidden cameras or dirty tricks. Instead, we are presented with a colourful, curious and alternately thought-provoking and really funny look at a kitschy world, whose ability to fascinate us may not be so different to that of other religions. Among its members are both academics and businessmen, who have all seen the light of the spaceship. As one of Rael's many followers says, religion is also about the human need to have something to believe in and be a part of. In the end, it's just your own responsibility to choose which way you want to go. In the meantime, the white-clad Rael is working on expanding his influence to the rest of the universe.
We've all heard of Raël. And like you, probably, I considered him to be a kind of fraud, or even an enlightened one. I found the Raelians to be a group of lost people. But after seeing The Prophet and the Space Alien, I have to admit that my outlook has changed somewhat. The documentary shows that this religion looks like any other religion in every way, or almost. It is much less restrictive. In the end, and this is the greatest point of divergence with other religions, Raelism advocates pleasure, love, happiness.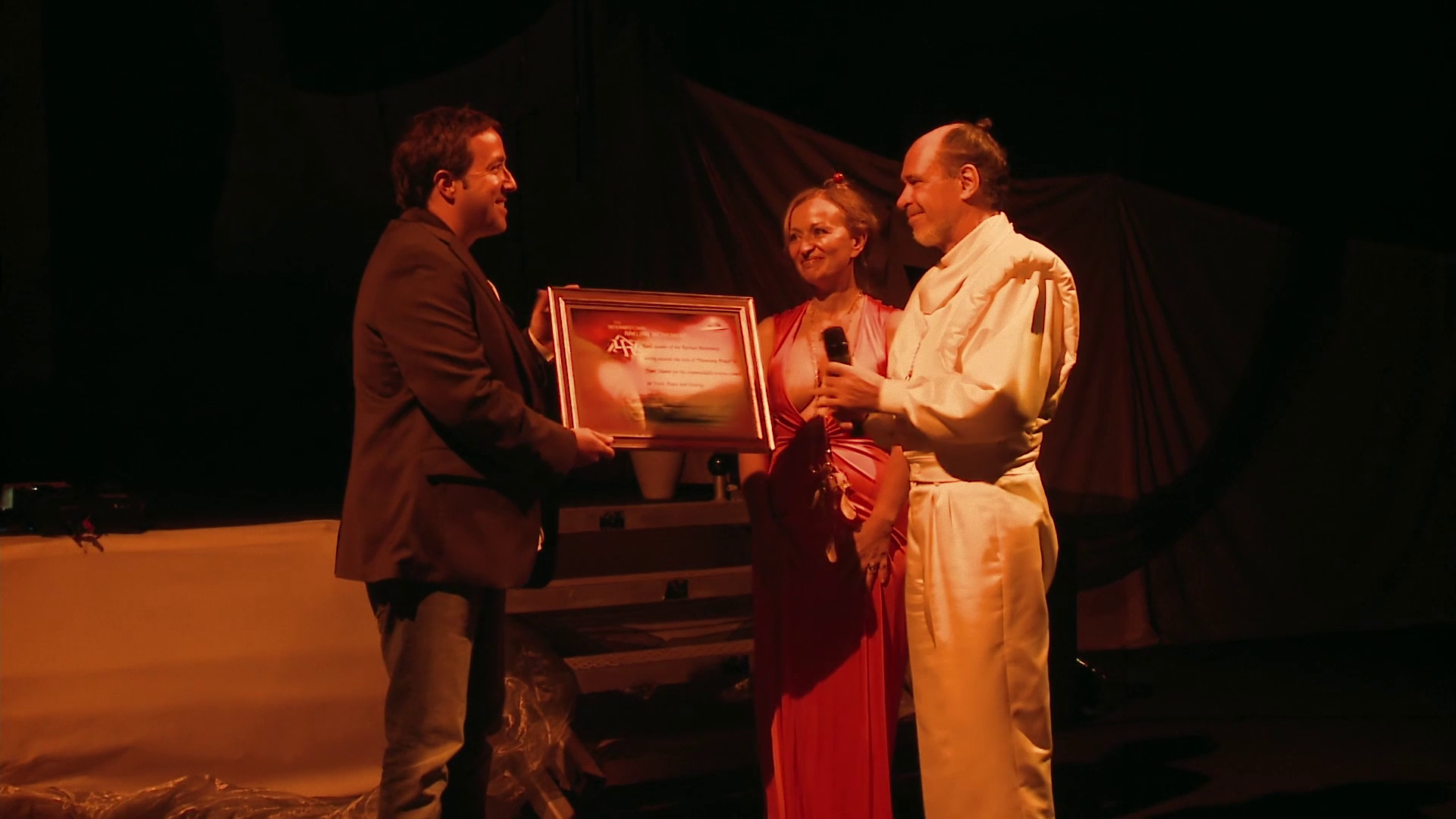 It is also the only religion to say that love and peace do not need a God and that science must be the basis of beliefs. Moreover, and it gave me a certain respect for them, the raelists founded a clinic in Burkina Faso, which offered free operations, allowing women who had been excised to have their clitoris reconstructed. And yes, this is an actual procedure.
The documentary does not try to convince you that Rael is telling the truth or that his worshipers are right. But it offers a nuanced, thoughtful and developed look at a little known religion. Personally, although I don't intend to convert, I do gain respect for these people. I strongly suggest you watch this movie.
Technical sheet:
Original title: The Prophet and the Space Aliens
Duration: 86 minutes
Year: 2020
Country: Israel / Austria
Director: Yoav Shamir
Screenplay: Yoav Shamir
Mayor (David Osit) – USA / UK
Mayor is a real-life political saga following Musa Hadid, the Christian mayor of Ramallah, during his second term in office. His immediate goals: repave the sidewalks, attract more tourism, and plan the city's Christmas celebrations. His ultimate mission: to end the occupation of Palestine.
Rich with detailed observation and humor, Mayor offers a portrait of dignity amidst the madness and absurdity of endless occupation while posing a question: how do you run a city when you don't have a country?
The Donut King (Alice Gu) – USA
The Donut King, Ted's story is one of fate, love, survival, hard knocks, and redemption. It's the rags to riches story of a refugee escaping Cambodia, arriving in America in 1975 and building an unlikely multi-million dollar empire baking America's favorite pastry, the donut.
Ted sponsored hundreds of visas for incoming refugees and helped them get on their feet teaching them the ways of the donut business. By 1979 he was living the American Dream. But, in life, great rise can come with great falls.
Two Gods (Zeshawn Ali) – USA
In the city of East Orange, New Jersey, a casket shop stands on the corner of N. 15th and William Streets. Inside, laboring amid the sawdust and the long pine boxes, are two men: casket makers, morticians working in the Islamic burial tradition, and mentors. Countering tumultuous home lives and the dangerous undertow of the streets, they have found a way, through the rituals of death, of teaching their young charges to embrace life. Two Gods tells the story of Sunnah Caskets proprietor Rashad and his employee Hanif, who take neighborhood kids under their wing to learn a trade, a tradition, and a way to better this world. 
Years ago, Hanif left a demoralizing cycle of addiction and prison time to work for Rashad. Deeply moved by the burial rituals the mortician performed, Hanif saw in them the possibility for his own redemption. Now, what Rashad once did for Hanif, and what Hanif wishes he could do for his own estranged son, the two men do for 12-year-old Furquan and 17-year-old Nas, teaching them to craft caskets and to master the practice of janazah: washing the dead and praying for their passage into the next life.
Modeling the crucial role of faith and customs in cementing human connection, Rashad and Hanif teach compassion and empathy to young men at risk of slipping between society's cracks into violence.
Yung Lean: In My Head (Henrik Burman) – Sweden
Jonatan spent his early teenage days kicking around Stockholm, shuffling lyrics and melodies in his head, while dreaming of sharing them with the world. When he found a rabid fanbase online, international rap superstar Yung Lean was born. But as his star burned brighter, darkness began to settle in, eventually blurring the line between reality and his own vivid imagination.
***
Whether or not you are a documentary lover, this short list will offer you something that will please you. And quite frankly, the only reason I haven't watched more movies on the list, to tell you about them, is the lack of time. But I promise to watch more in the coming weeks.
We'll talk about this later!