"We don't want to take the place that men have. We're not men."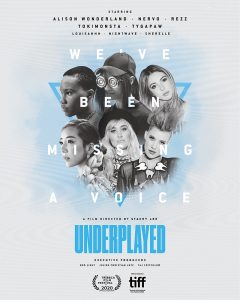 Electronic music was born from the ideals of diversity, community, and inclusivity; yet in the last two years only 7% of Billboard's Top 100 DJs were women. Filmed over the summer festival season, Underplayed presents a portrait of the current status of the gender, ethnic, and sexual equality issues through the lens of the female pioneers, next-generation artists, and industry leaders who are championing the change, and inspiring a more diverse pool of role models for future generations. Ultimately, the film explores how gender disparity happens; a theme that transcends music and finds relevance in many of today's industries.
With Underplayed, Stacey Lee explores how the gender disparity in the world of electronic music occurs. A theme that, unfortunately, transcends music and finds its relevance in many industries, even today.
Origins and evolution
When I started watching this documentary, I was afraid to find myself in an endless discourse about the under-representation of women in the music industry. We already know that. I didn't see the point of making another film on this subject. But fortunately, after putting us in the situation of the sad reality, the director moves on. She shows us why women should have an equal place with men. Because what the belligerents are asking is not to take the place of men. No. They just ask to have THEIR place. I will come back to it…

To present her point, Lee incorporates, throughout the film, archives showing that it was mainly women who created electronic music. And, when electronic music pioneering godmothers began tinkering in their science labs in the 1950s and 1960s, they could never have imagined that their little experiments, behind the scenes, would make way for a global industry worth 8 billion dollars today. They couldn't have predicted, either, how its very creative and egalitarian roots would grow from an open experimental playground to an industry dominated by a one-dimensional male perspective.
A fight
I sure won't surprise you in writing this, but everyday life for women in the electronic scene is a silent struggle too. Because talking about being a "woman" often overshadows the main objective: to be taken seriously as an artist, above all. You've certainly heard someone say: if she got this job, it's because she's a woman! So, Underplayed is not just a film about equality, but also a film about perseverance. There, I will mainly address "my gang". White gentlemen, who live in a predominantly white environment, this can be hard to imagine… Yes, finding a job, making our place, having a chance, it is a challenge. Certainly. But if there's one number to take away from Lee's documentary, it's 3%. This number represents the place given to women DJs in events. Only 3% of performance spaces is given to women. So if you have a festival where you have 100 artists, only 3 will be women.

Underplayed presents a clever take on parity, for that matter. No woman (DJ, sound designer, producer…) asks for a 50-50 parity during events. They ask for parity in terms of opportunities: those of having access to training, those of showing off in order to show that they are good, those of giving their opinions. One segment particularly marked me. Alison Wonderland is preparing her show. During rehearsals, she explains to her technicians what she wants in terms of sound. And the sound engineer stubbornly refuses to give her what she asks. Why? Because he knows what's best. He knows the kind of sound that will be the best for this artist, composer. And when she confronts him about why he doesn't give her the sound she asks for, he tells her off. Luckily, she ends up firing him and hiring… a woman. Not only does this kind of man cause problems for female artists, but he also causes trouble for other men. Would you like to hire another man after this kind of experience? I wouldn't.
The director also explains this about her film, when asked what to keep from her documentary: "To remind us that equality isn't about one side defeating the other, but by all sides coming together for the greater good. Because the more we can lift each other up, the more we all have to gain."
Some favorites
Several artists testify to their experiences and their creative process: Tokimonsta, Sherelle, Tygapaw, Louisahhh, Nightwave, as well as a group of technicians and producers. But I wanted to tell you about my 3 favorites. Just for my own pleasure. And to make you want to discover them, too (if you don't already know them).

Alison Wonderland
Alison Wonderland architects a world of her own design as its chief author, creator, and voice. The Sydney-born and Los Angeles-based singer, producer, songwriter, and DJ emerged in 2009, her sound quietly inched towards mainstream ubiquity as the sonic sorceress received the "Highest Female DJ Billing Ever at Coachella" label and captured #1 on the Billboard Top Dance/Electronic Albums Chart twice consecutively, headlined sold out arenas around the globe, and clocked upwards of 400 million streams by 2019.
Rezz

Rezz is the moniker of Isabelle Rezazadeh, a Canadian DJ/producer from Niagara Falls, Ontario. Born and raised in the Ukraine by her Ukrainian mother and Iranian father, her family moved to Canada when she was young. She discovered music at an early age, and fell in love with dance music when she snuck into Toronto nightclubs while still in her teens. After gaining a following from songs she posted online, Rezz attracted the attention of stars such as Skrillex and Deadmau5.  Her full-length debut, Mass Manipulation, arrived in August 2017 via Mau5trap. Her full-length follow-up, Certain Kind of Magic, followed in 2018. Mass Manipulation won the Canadian Juno Award for Electronic Album of the Year, and in 2019, Certain Kind of Magic was nominated in the same category.
With her packed 2020 tour schedule being brought to a halt, international superstar Rezz has begun giving her large and loyal fanbase live stream DJ sets during isolation so she can continue creating and performing.
Nervo
Having written and produced hits for the likes of Kylie Minogue, Ke$ha, The Pussycat Dolls, Afrojack, Steve Aoki and Miley Cyrus to name a few, and receiving a Grammy Award for writing 'When Love Takes Over' for David Guetta and Kelly Rowland, the duo sisters of NERVO from Australia have risen to stardom with their songwriting skills alone. Add to this a DJ schedule with main stage slots at some of the world's biggest festivals (Tomorrowla n d , EDC , Lollapalooza , and Creamfields), residencies at super clubs Omnia, Hakkasan and Wet Republic in Las Vegas, Ushuaia in Ibiza, climbing as high as #16 in the DJ Mag top 100 DJ's while continuing to hold the title of world's highest ranking female DJ's, it's fair to say NERVO are credited with being one of the biggest dance acts in the business.
2019 was a special year for NERVO as the sisters both gave birth, and were named the inaugural weekly hosts of Tomorrowland Radio (of the world's biggest EDM festival, which they have headlined multiple times).
Still…
What's beautiful, too, about Stacey Lee's documentary is how much these artists help each other. The competition is tough. There are few places. And when these women are not on stage, or busy producing, mixing and mastering, they are working to secure the voices of the next generation. They organize workshops, conclude contracts for software… While recalling the legacy and contributions of pioneering women and offering a lifeline, a model and opportunities for the DJs, producers and engineers of the future.

I am not a fan of electronic music. But Underplayed is a film of hope for marginalized communities, under-represented people of all sexual orientations, gender identities, ethnicities, disabilities. Because, let's not forget, it was these roots of inclusiveness, love and peace that started the electronic music revolution in the first place.
Definitely a movie not to be missed!
Rating: 8.5 / 10
Trailer
Technical sheet
Original Title: Underplayed
Duration: 87 minutes
Year: 2020
Country: Canada
Director: Stacey Lee
Screenplay: Neil Blewett, Georgia Dobson and Stacey Lee