"Do you know a girl with long red hair?"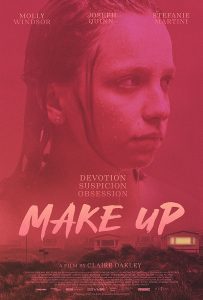 When reserved teenager Ruth (Molly Windsor) finds a smeared lipstick stain on her boyfriend Tom's (Joseph Quinn) mirror and a strand of red hair on his T-shirt, a sense of unease creeps into their caravan. Refusing to confront Tom with the discovery, Ruth tries to find the mysterious red-haired girl. When she starts to work with the confident and vivacious Jade (Stefanie Martini), her scarlet nails and the hint of red in her hair amplifies Ruth's growing fixation. Ruth tries to keep her misgivings at bay, but her haunting suspicions begin to feed an obsession that threatens her relationship with Tom. As a distance opens up between them, Ruth finds herself both intrigued and fearful of getting closer to Jade. Little does she know something entirely different from jealousy may be haunting her…
With her psychological thriller, Claire Oakley offers a film about the quest for self. Make Up shows a very intriguing female main character and an obsessive descent into the world of jealousy.
Jealousy or quest for identity?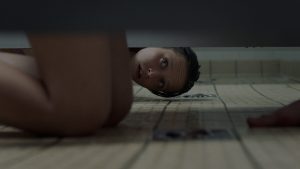 To write her film, Oakley learned a lot about the confusion and uncertainty that many young women experience around identity and sexuality and was intrigued by the idea that girls are encouraged to contain and hold back their sexual appetites and bury their sexual desires. "I can't help but think of myself and younger versions of myself, me in my teens and twenties," she says. "I wanted to write something for anyone who has surprised themselves with feelings that they didn't think belonged to them or anyone who has wanted something they didn't think they should want".
Then she built a plot that mixes the quest for identity and psychological drama: An 18-year-old woman who only had one boyfriend, with whom she has been for 3 years. The arrival in a new environment after a long separation. And a disturbing discovery…
The director manages to juggle these two themes well in order to create a lost of balance for the viewer. But it is through the judicious use of the setting that everything takes shape.
A set up that obsesses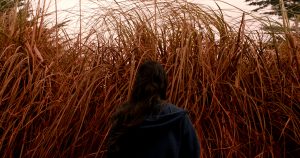 There are few jumps and scares in Make Up. But there is an ominous tension from start to finish. This haunting tension comes from the carefully composed shots and detailed sound design to create an atmosphere. "I wanted it to be a weirdly alluring, gripping experience where you have the constant feeling that something is coming for Ruth. For me the tools of genre were ways in which to get further inside Ruth's head and to see her fears and desires".
But to succeed in composing good shots, it also takes the right setting. Here, it is the caravan park which offers a scary playground for the main character, and for the spectator.
« Wandering around the parks at night, I noticed there were plenty of opportunities to use the place in a thrilling and creepy way – for instance, the architecture can be used like a maze. A caravan park has the capacity to be both dream and nightmare, with only a flimsy plastic wall as the line between the two. »
This plastic wall is the kind of large tarp (or transparent bags) that are installed on the caravans when the storm approaches. But a trailer park is not just a place to get lost. It has a great thematic value with the repetitive architecture and homogeneous terrain, which contrasts with the wild nature of the sea and the dunes. And it's obviously a perfect opportunity to compare with the character of Ruth, who is living the most important moment of her life so far. She must make the choice between living a false, prefabricated life or a free life according to her desires.
But still…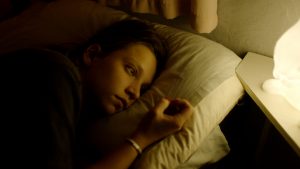 For Ruth, it all starts with the discovery of a red hair. She, who moved into this lost place in the name of love, will find herself, instead, lost in a quest led by jealousy, through the labyrinth of the land and her soul.
It is thus in the depths of the heart that Claire Oakley's Make up invites you. An excellent psychological thriller that goes beyond the simple genre film.
Rating: 8/10
Trailer