"Everything is old if you look at it that way."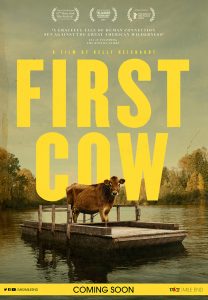 The core of the film is the friendship between King-Lu and Cookie (John Magaro), who meet in the forest while the latter is running with a group of fur trappers on the verge of cashing in their pelts. Recognizing that King-Lu is a man on the run, Cookie—whose quiet, wary bearing marks him as an outsider—gives him shelter. They meet again on the outskirts of The Royal West Pacific Trading Post, a muddy, bustling outpost filled with American dreamers looking for opportunities to seize. The pair's own chance comes after an encounter with an unexpected neighbor: a cow reputed to be the first ever brought to the region. Its presence inspires Cookie and King-Lu to attempt a risky joint business venture halfway between honest work and pure grit. As their earnings pile up, the two have to decide how long they should try their luck before they cut and run.
First Cow is, as Old Joy (2006), primarily a story about the Pacific Northwest, and a story about a friendship between two men from different places, based on Jon Raymond's The Half-Life. Kelly Reichardt succeeds in showing, borrowing her own expression, primitive human relations through "a primeval American scene" around 1800 in Oregon.
An aspect of a suspense story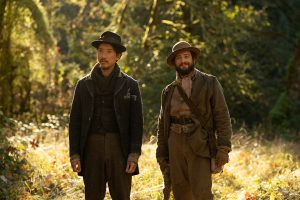 Although the plot is quite simple, there are a lot of mysteries in the film. The narrative is supposedly set in the 21st century. The story starts with a woman and her dog finding two buried bones pile side by side. As the film goes on, you will start to think that the bones found at the beginning of the film are probably those of Cookie and King-Lu… Then the film will be no longer a simple drama for you. Knowing that they died together, you will be put in a state of anxiety to follow the film: how and why they were buried like that? This anxiety of yours will be intensified with the serene and calm ambiance in the film. There is no dramatic scene. All the film provides is just images of basic human lives in forest; nothing so critical… but will they get killed because of stealing milk?
There are some more things about the story that make you anxious. The camera often focuses on other secondary characters, which makes the audience think that they may play some role in the story. However, most of them are just presented as people that Cookie and King-Lu happen to pass by. The film leaves you to wonder if the baby at the bar will be back safe to his father, what will be the future of the little working girl, etc… These remain unknown until the end, only to show that none is certain in the world. You will have the same uneasy feeling from the dialogues as well.
Behind the dialogues between humans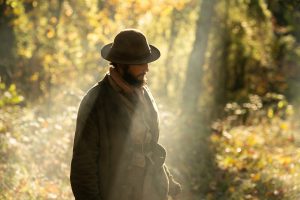 The characters of the two men are quite opposite. King-Lu is talkative while Cookie is someone reserved and modest. When the former expresses his ambitious vision, the latter stays silent. But, it is absolutely Cookie who is moving the story: it's him who gets an idea of baking biscuits, improving products for public demand; it's him who decides to bake and bring a clafoutis to the land owner's place. What the film shows here through Cookie's character is a passion inside of human who seeks relations with others, whether consciously or not. It seems the film tries to tell us that something (like instincts?) behind dialogues makes a story, or even controls a life. This "something" is not something that may be verbalized. It is something beyond description. This idea is well expressed in scenes of escape, when King-Lu negotiates with a Native American man to get a lift on a boat, or when Cookie finds himself taken care of by an old Native American woman. No single word in English was spoken between them, so the audience has to imagine the rest. Through these inspiring scenes, the film would suggest that a life is dominated by the uncertainty that comes from indescribable about human relations.
Relationships in more different ways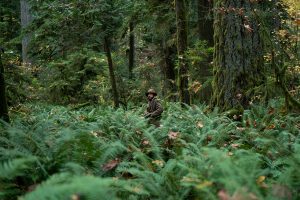 "It's a film about others", says the director. Here "others" have a wide meaning. There are two other characters with whom Cookie and King-Lu have direct or indirect relationships. They left me strong impressions: the cow who offers milk and a boy who dies to get biscuits. One of the most moving parts of the film is when Cookie talks to the cow while milking. We can clearly see that there is some emotion born between the man and the animal, beyond language. Milking a cow is not just an act for the purpose of baking, but an act of sharing a moment of life. The other impressive character is the boy who lines up twice (at least) to buy a biscuit and gets close, but never gets one. It is obvious that he will be the one who most influences the fate of Cookie and King-Lu, but I can't stop thinking if it is because he never gets a biscuit, or never gets attention from them…?
The film leaves many things mysterious and prompts us a lot of reflections regarding human relations. Every element or action stays like half-baked, but in this way the film is well directed for not trying to explain, but to simply show how humans pass one another on a land and develop their relations. I definitely recommend this film to anyone who is not only interested in the Frontier era, but also thinking about human relationships.
Rating: 8.5/10
Watch the trailer: