"You, today May 21, 2020."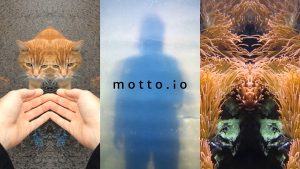 Motto is an interactive book, made up of thousands of short videos, which tells the story of the millennial journey of a sympathetic spirit called September.
Halfway between a ghost story and a treasure hunt, Vincent Morisset's Motto oscillates between documentary and fiction, weaving the images created by each participant in the emotional fabric of their story. The work acts as a prism which, through the multiple refractions of the imagination of all users, continuously transforms their perception of the world.
The spectator actor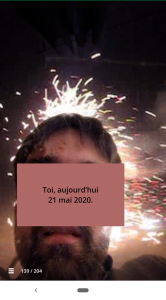 Motto is not a film in itself. Rather, it is an adventure where you are the hero. In fact, it's an interactive mobile website.
This slightly crazy project combines new technologies with older ones. Text, images, algorithm and computer vision intermingle as an unknown narrator leads us from today to yesterday, to a possible tomorrow, going from the Quebec forest to the Chilean desert passing by the shores of the Nile.
Honestly, when we start, we find that a little insignificant. But, after a few images, we are quietly caught up in the game. We take pictures, get up, walk around and start to think. We let ourselves be invaded by the atmosphere of the work. And the story changes depending on where you are. Are you outside? Your story will take place outdoors. You are at home? Your story will take place indoors.
6 chapters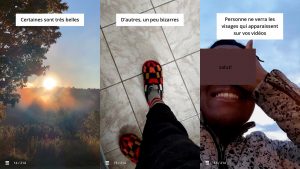 Morisset (AATOAA), and the National Film Board of Canada team up to explore a whole new narrative vocabulary by inviting users to present fragments of their universe in the form of a story. Motto draws on influences as diverse as Agnes Varda, Snapchat, Italo Calvino, Christian Marclay, Bruno Munari, W. G. Sebald and the film Being John Malkovich.
Motto is told in 6 chapters that we can discover at our own pace. Each lasting about 15 minutes, and can be stopped whenever you want. The website keeps track of where we have been and suggests that we start over in the same place when we reopen the "book".
Small flaw, if there is one. This story is fun one chapter at a time. Rather than doing it on a long, hour-long adventure, it's best to think of it as six separate little adventures. Because even if you can stop at any time in a chapter, it's better to do it all at once. Otherwise, you are less caught on the adventure and you will not experience it in the same way.
But still…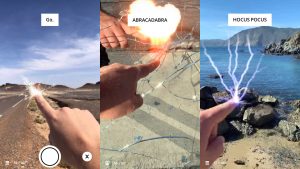 By meditating on memory, metaphors and the power of creativity, and by invoking each of our senses, Motto gives birth to its own fascinating and intimate universe, in which we never guess what will happen.
I strongly invite you to play the game and to contribute to the collective memory by adding fragments of your lives to it.
Try it here: https://www.motto.io/