For Italy in short!, François on behalf of Le Petit Septième, met director Federico del Buono, whose first film, Conquista il mondo, will be presented on our website from December 6 to 8 2019. The interview was the occasion to learn more about the film itself, but also about trends in Italian cinema. Here are some highlights of this discussion.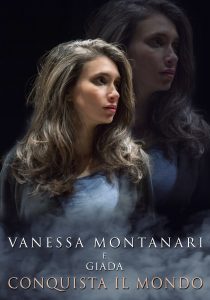 François: How was born the idea of ​​Conquista il mondo?
Federico: I was trying to deal with the psychological aspect of the characters. I wanted to make a story that could be a mirror of people working in the film industry, in fear, in intimidation … The theater is a bit of a metaphor: everything is true; everything is false; everything can happen. And we accept some exaggerations that characters can live.
François: So the theater is an excuse to talk about bullying?
Federico: Yes, I have an intimate relationship with the theater. I like the theater. And the life of this actress inspired me to make this film, in which the theater is a bit like a metaphor. On a stage, one is uncovered, naked in front of the public. It was perfect.
François: Wasn't it too difficult to make a film that takes place in a theater?
Federico: It was challenging more than difficult. To unite theater and cinema is not easy. These are two different worlds. It was very interesting to make a movie in a theater that talks about theater. Very complicated because you have to follow the rules of the theater anyway. It was very entertaining. Complicated, but entertaining.
François: The film is very good. But for a typical audience, it may seem a little complicated.
Federico: Yes, I know. In fact, the career of Conquista il mondo in festivals has been much more prolific abroad than in Italy. It's a type of movie that we do not look at much in Italy. Action films are preferred. On the contrary, I received an excellent reception in America, India, Canada. We did 4 festivals in India and we won 12 prizes!
So, yes, a very complex movie, especially since it's a short film so we have less time to understand it.
François: Short films are not seen much in general. And we are really happy to present this one. I do not know who did the photo direction, but the picture is beautiful. It's dark, but a special light comes out of it…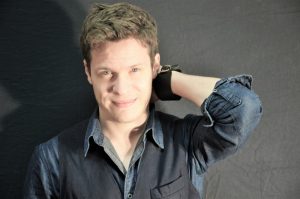 Federico: That's right. The image I wanted to give is the one of a very classical theater. With very cold colors. Thus, the theater is like a metaphor for the emotion of the woman. The photograph is therefore obscure, subtle.
François: Where was the film shot?
Federico: Here in Bologna. The theater is called the Alemani Theater, a historic theater here in Bologna, and really beautiful.
François : The camera is very mobile. Was it done this way to show the vertigo of the protagonist?
Federico: Yes… I do not know… I wished certainly to give the viewer an impression of movement.
François: Why so much hatred in the theater world? All the other actors seem to hate him. Does it come from a personal experience or from something you have seen?
Federico: So, I inspired me from the history of the main actress. A similar experience has happened to her. The reason why it is more tough is that the theater is a much more closed environment and there is more competition.
François : Have you worked with this actress before?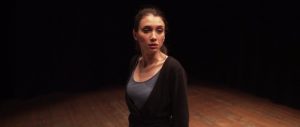 Federico: Yes, on a few occasions. For me, she is a wonderful actress with an exceptional expressive ability. She has been a theater actress for so many years, but she was never made of cinema.
François: Is this your first film?
Federico: As a director, yes!
François: So, are you currently working on a new project?
Federico: Now, no. We have just finished filming another film and we are in post-production. François: This is another short film?
Federico: Another short, yes. This is the last one I will shoot. We have a really superb cast, really important actors in Italy and even on the world stage. It's a very dramatic story, a bit like Conquista il mondo, but it's now possible on family themes. It is question of the relationship between father and son.
François: A very Italian subject, the family …
Federico: More Italian, yes exactly! Much more Italian and much easier to understand!
François: I realized that Conquista il mondo does not deal with a subject that we see a lot in Italian cinema.
Federico: Unfortunately … We do not have this kind of cinema that, on the contrary, works a lot in America. We like the comedies.
François: How would you like to present your film to the Canadian public?
Federico: I love Canada because it's a beautiful country and I'm really in love with its people. So I would like to present it as a film to watch with attention and passion, to ask questions as he looks at it and to find his own explanations.
François: We do not really know how the film is ending. It is very interesting that it is not too clear.
Federico: Yes, it's a little like life… We make decisions but, in the end, we do not know if we are completely wrong. She decides to follow her heart and make her own choices, but we do not know if she was wrong or not. And so I decided to let the viewer choose what will happen next. It was very important to me.
***
Come make your own idea of ​​the actress' destiny in this short film! Conquista il mondo will be presented for free from December 6th to 8th directly on the page of the Petit Septième, as part of Italy in Short!