"I do not think about making shorts; I think about telling stories. This story, Sweetheart, is a short film because it could only be a short film. "
-Marco Spagnoli
In the context of Italy in short!, François et Fannie on behalf of Le Petit Septième, met journalist and director Marco Spagnoli, whose first short film, Sweetheart, will be presented on our website from August 9 to 12 2019. He told us more about his film and his professional career around a Spritz. Here are some highlights of this discussion.

Italian audio version / Potete ascoltare la versione in italiano qui
Fannie: Where did the idea of ​​Sweetheart come from?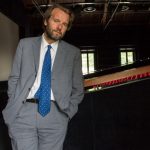 Marco: The idea is not mine. It's strange because I never thought of making a short film. Because I do not have a big passion for short films. Often, shorts are just little trinkets. That's something Alexander Payne once said and that I found very accurate. It kinda looks like the relationship movies have with TV shows: unlike movies, TV shows are seen by everyone. It's the same thing with shorts films. Short films are hardly seen. They do not please many viewers because viewers do not have time to get involved in the story. They last 20 minutes, 15 minutes… So, I never thought of doing it. Nicola Guaglianone [the writer] is a good friend of mine. We wanted to work together. He told me, "I have this story that I would like to tell"…
(At the server) May I ask you… (To us) No, but it's still fundamental… (Laughs) (To the waiter) Can I ask you for two spritzes and a prosecco?
But the end of Nicola's story did not suit me. I said, "I'm willing to do it, but I want to let the viewer decide what is the nature of the relationship between the two characters at the end."
Fannie: So, Marylin Monroe and Elvis Presley are the characters in Nicola's story?
Marco: Yes, yes!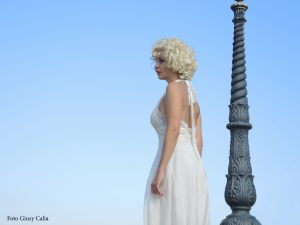 Nicola, however, wanted something different: he wanted the scene to show the two characters walking in the middle of Rome with many people around. But we had a hard time shooting it. We had to change place. Shooting in the center of Rome with all the people who stop to look at us…
Fannie: Yes, indeed (laughs)
Marco: He was not very happy with that. He wanted the characters to be lost among the people in Rome. I liked it, but… When we had to give it up… I do not know… I really liked the beginning of Vanilla Sky, when Tom Cruise is alone in New York. So, that's why it seemed so much more touching to see this empty Rome, completely empty… artificially empty of course. And the two characters who have this meeting. Because no one knows what kind of meeting it is. It might just not exist as well. I think it's up to the viewer to decide the nature of their relationship, their story.
Fannie: The choice of place is very interesting. Putting these two American icons in an Italian place, as much iconic as them, creates an interesting confrontation for the viewer.
Marco: Yes, yes, thanks to Nicolas. He has this great ability to create encounters between stories and characters in his cinema. He's been great on this aspect. He made a tragic story, basically, and in addition, a very sophisticated story, because it's up to the viewer to explain himself the nature of the relationship between the characters.
And that's why I wanted to do it, because it's a short film that had vast narrative possibilities, a story that I felt I could tell and tell in a certain way.
Fannie: So, do you plan to make other shorts?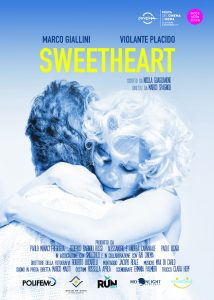 Marco: Actually no. And that's a very important thing. I do not think about making shorts; I think about telling stories. This story, Sweetheart is a short film because it could only be a short film. I do not like shorts that are movies in 20 minutes; I do not like short films that are actually short films because the directors did not get funding for a film. If I find another story that can only be told in a short film, then I'll do it very willingly.
(The spritz is arriving!)
Fannie: We know you're a journalist first and foremost. How did creation come in your career?
Marco: About a decade ago, around 2008, a friend told me, "why don't you make movies yourself? I have a lot of respect for people who make movies and television, but I never thought of making a movie. But when I got this proposal, it turned out that I had a story to tell: Americans in Italy. I wondered: how are the Americans doing in Rome? And the documentary was very successful. And this documentary lit a light in my mind, and people began to ask for me, to call me. And all that led me to think of other stories.
In fact, I'm not good at imagining beautiful stories. I shoot what I read and I build my thoughts on the material that I read. I can do nothing but imagine stories that are inspired by reality. I have been a journalist for so many years; it's normal, I think, that I want to shoot something real.
François: It's risky to become a filmmaker after writing film reviews for so many years? To pass on the other side of the camera…
Marco: I don't think so. I speak for myself, it is not a general rule, but I write reviews in a very sincere way. This is the rule that I gave myself: write things that I could tell the person by looking into their eyes. I have never insulted anyone.
When I write, however, I see the things I do; these things help me. In my opinion, it is an advantage. I believe that seeing so many films helps to form one's own thinking, one's own taste. And it also gives, above all, great humility.
I would not feel good about just criticizing; I would feel more frustrated. And it's a chance that my work is also my passion.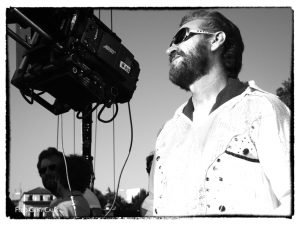 François: Did you know the actors before?
Marco: Yes, yes! This is one of the benefits of my work as a journalist.
Fannie: Finally, is it easier to become a director after having made a career of journalist because you have already developed a great network?
Marco: I don't know. For some aspects it's certainly easier. However, actors do not usually have this kind of relationship with critics. On the contrary, I have always wanted to have a better relationship with them, I always had a great desire to know the people who contribute to a film and the actors are fundamental from this point of view.
…
François: Let's go back to Sweetheart. Why did you choose a title in English?
Marco: Nicola chose the title. He chose this title at the beginning and it's true that it reinforces the characters' strangeness. They are not Italian characters; and so it's good that the title is in English. The word game with Sweetheart pleased me too. It may seem obvious to you, but for an Italian who does not understand English, he does not know what  Sweetheart means, and he thinks it's actually Sweet / Hearts …
***
To understand the – sweet? – relationship between Elvis and Marilyn, these two American Sweethearts, visit our website on August 9th. The beauty of this film also lies in the fact that no dialogue is necessary to convey the emotion and to make the viewer imagine the nature of the relationship between the two characters. A universally beautiful film, no matter what language you speak. A short film to see!
Interview by François Grondin and Fannie Caron-Roy