"How does a movie in which we have cheap actors running in cheap settings and facing cheap undead can be so awesome? I know, I said the same thing for 37 minutes. But you know what? After, there are 59 other minutes. – François Grondin, LPS
"I thought I had seen everything in cinema. I saw pictures of strange babies in David Lynch's Eraserhead, I saw a man ejaculate blood after being hit repeatedly in the genitalia in Lars Von Trier's Antichrist, I saw people fucking with putrefying corpses in Jörg Buttgereit's Nekromantik, I've seen people literally eating shit in Pier Paolo Pasolini's Salo or 120-days of Sodom, but I hadn't seen anything before seeing La noche del virgen (The Night of the Virgin) by Roberto San Sebastián. – François Grondin, LPS
Every year, Fantasia surprises us with original films, ever more frightening, ever more shocking… These excerpts from the reviews of One Cut of the Dead and The Night of the Virgin testify that these movies are probably those which  marked us the most in the past two editions of Fantasia. No wonder we are looking forward, every year, for this festival, which will run from July 11 to August 1st.
What does Fantasia have in store for its 23rd edition? LPS offers you an overview of the program of the next three weeks.
Horror films "à la québécoise"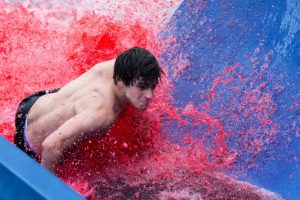 Fans of horror movies will be served with Aquaslash, the new feature film by Renaud Gauthier, premiered on July 29, 2019. In this vibrant tribute to the gore films of the 80s, Gauthier, we discovered in 2013 with Discopathe, starts from a rather ordinary synopsis: a graduation weekend. The event turns into a nightmare when a murderer inserts huge razor blades into water slides, cutting off participants from the annual Wet Valley Water Park competition.
Watch the exclusive pre-trailer: 
Another Quebec horror film not to miss: Jade's Asylum, by Alexandre Carrière. Jade (Morgan Kohan) is on vacation in a luxurious villa with wealthy Americans when occurs a series of mysterious attacks made by beings covered with vegetation, sap dripping and armed with machetes. It tickles your curiosity? Jade's Asylum is presented at Fantasia on July 13, 2019.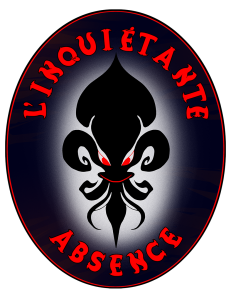 Apart from these two films, the Quebec feature film offer is unfortunately still rather limited in Fantasia this year. Do you find, as well, that genre cinema is under-represented in the film production of our beautiful province? The documentary The Disturbing Absence, by Amir Belkaim and Félix Brassard, deals with this issue. Presented as a world premiere on July 14, 2019, the film underlines important moments  of our cinematographic history and gives a voice to contemporary directors defending genre cinema, Robin Aubert in particular. Remember that the latter had in fact signed in 2017 the first Quebec zombie film, Les affamés, whose production has required a campaign of crowdfunding due to the difficulty of obtaining subsidies from our institutions for a film of this kind. The proof that this documentary arrives perfectly…
We do not get tired of the classics!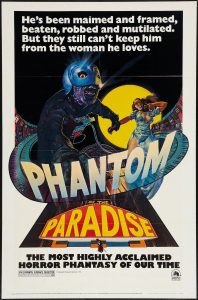 Some museum pieces will also punctuate Fantasia's program for this 23rd edition. The 45th anniversary of Phantom of the Paradise, Brian de Palma's cult film, will be celebrated on July 13, screening the movie in presence of actor Paul Williams. This film presents a singer-songwriter who believes that success awaits him when approached by a mega-producer. But this is the beginning of a crazy adventure, inspired by both the Phantom of the Opera and Faust… He is imprisoned, being disfigured by a record press… and disguises in a masked ghost to sign a contract with his blood. You get it… ☺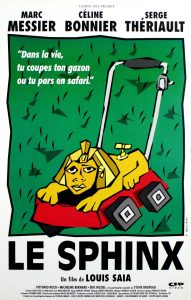 On July 15th, see an extraordinary screening of the sequel to the horror film Rosemary's Baby (Sam O'Steen, 1968): Look What Happened to Rosemary's Baby (1976), presented in a 16mm copy, a rare jewel drawn directly from Fantasia's archives. Actor Stephen McHattie will be there for this evening, To end this tour of the classics, let's speak about a movie from our home country: The Sphinx, by Louis Saia (1995). In this feature film, the routine and orderly life of a suburban history teacher goes from one extravagance to another when he meets an erotic dancer. Featuring Marc Messier, Céline Bonnier and Serge Thériault, this film promises a lot of fun. To see, or see again, on July 28th.
Spain and Asia still in the spotlight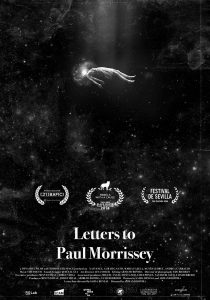 As in previous years, Le Petit Septième awaits with great excitement the selection of Spanish and Asian films. Why ? The Spaniards really seem to have a hand for horror and fantasy movies. We will keep an eye on Paradise Hills (Alice Waddington) on July 14th, The incredible shinking wknd (Jon Mikel Caballero) on July 20 and Letters to Paul Morrissey (Armand Rovira and Saida Benzal) on July 16th and 26th.
On the Pacific side, South Korea has a lot to offer this year. See the Quebec premiere, on July 13th, of the thriller presented at Cannes, The gangster, the cop, the devil (Lee Won-tae). Maggie (Yi Ok-seop), presented on July 17 and 28, which has been nominated at many festivals and won the Osaka Asian Film Festival Grand Prize, also promises to be a rather unusual entertainment.
Not to mention the short films…
Short films are not left behind in this vast program. Indeed, several sessions are organized grouping them by genre, by originating country or by theme. You feel local? Quebec short films are shown every weekend as part of the Fantastiques Weekends of Quebec Cinema. Would you prefer to change of scenery? On Sunday, July 21st, 11 Asian shorts of ghosts, spirits and monsters are gathered for the Shivers of Asia session. A special session is also organized on July 16 to celebrate the work of the Japanese filmmaker named in Cannes Nao Yoshigai.
Are you a fan of fantasy and science fiction? Small Gauge Trauma 2019 events, July 24, and International Science-fiction Short Film Showcase 2019, July 27, are for you. Do you like different experiences? Enjoy Fantasia VR Experience, a selection of 12 virtual reality films, July 19-20.
***
No doubt, the program of Fantasia promises, once more, to amaze us, to fascinate us, to destabilize us. The variety and quantity of films offered is satisfying… and even stunning! Do not miss these crazy encounters with genre cinema.
The Fantasia Festival screenings will be held at Concordia University, the Cinémathèque québécoise, the McCord Museum and the Cinéma du Musée from July 11 to August 1st, 2019.