« Mais ce qu'y a jamais su, c'est qu'on a eu le temps d'être touchées par la grâce… ou quelque chose comme ça. Pis depuis ce temps-là, on essaie de la retrouver. »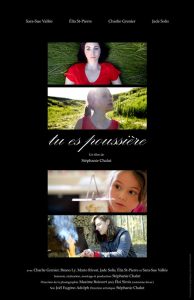 Two sisters, in their early 20s, live a spiritual quest by remembering childhood memories of the death of their grandfather, whom they could not see during a dozen years and to whom they were very attached.
Second short film by Quebec director Stéphanie Chalut (L'Offrande, 2015), Tu es Poussière speaks of mourning and hope. But it is not necessary to have faith to enjoy this film. We must simply accept to be carried away by the poetry of the psalms, which punctuate the story.
Quebec cultural heritage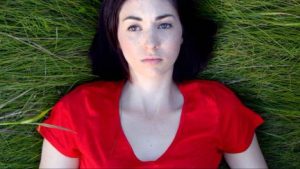 It is rare for Quebec films to approach Catholicism other than to criticize it. In Quebec, Bernard Émond is one of the few to report a relationship to the religious without shame or complexity. Stéphanie Chalut takes this path through the personal memory of two sisters.
Tu Es Poussière speaks of inheritance and transmission. By following the two women in their quest, we look back to certain traditions, on the spiritual references that constituted the Quebec identity. We look at the past, we question it, and this, through the eyes of youth. A questioning that extends by the character of Father Jean-Paul Adjoumani, an African priest that the protagonists will meet.
Between two ages: a worked aesthetic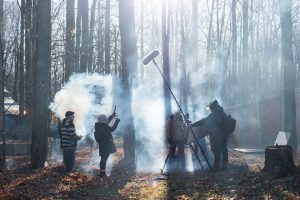 We go thus in between the childhood and adulthood of the two sisters, between their happy memories in family and the difficult announcement of the death of their grandfather. At the announcement of this death, we plunge with them. One of them sees herself in the countryside, in the middle of a verdant and luminous nature, to make the count during a game of hide-and-seek. The girl alternates with her adult counterpart, allowing the viewer to situate itself in time and space. We are then with a group of happy children, cousins, who play together.
Then we find the girls, isolated from this extended family. Parents are not shown, just mentioned. This is the story of young women, of their quest, and all the attention is paid to them.
The images are beautifully worked. The light, perfect. We are first carried by more jerky images, between two ages. Then, we focus on young women, as adults, we focus on their questions, we follow them through their desire to understand what drives them.
"Thy dead shall live; my dead bodies shall arise. Awake and sing, ye that dwell in the dust: for thy dew is as the dew of herbs, and the earth shall cast forth the dead."
The premiere of the film will take place on Thursday, March 7, 2019, at Gesù in Montreal.