"I don't wanna be a star. I want to be a legend."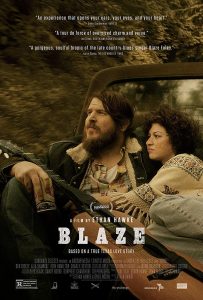 Blaze is inspired by the life of Blaze Foley, the unsung songwriting legend of the Texas outlaw music movement that spawned the likes of Merle Haggard and Willie Nelson. The film weaves together three different periods of time, braiding re-imagined versions of Blaze's past, present and future. The different strands explore his love affair with Sybil Rosen; his last, dark night on earth; and the impact of his songs and his death had on his fans, friends, and foes. The braided storyline terminates in a bittersweet ending that acknowledges Blaze's profound highs and lows, as well as the impressions he made on the people who shared his journey.
With Blaze, Ethan Hawke offers us a movie narrated from musical pieces. An editing reminiscent of films like Almost Famous or Inside Llweyn Davis. A touching work that reminds us that the line is sometimes thin between success and failure.
The editing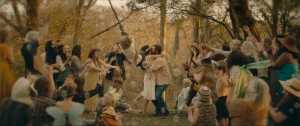 For me, Blaze's strength lies in the director's choice of how to tell the story. It's through songs that the film is built. The musician sings a song and you can see the images connected to it. We discover how he met his wife, how he started in the world of music, and why his life was destroyed.
At times the music continues throughout the sequence. At other times no. The only sequences that are not set by music are those where his two musicians tell the story of Blaze on the radio. A way of telling the story that makes it possible to present the man in a particularly effective way.
How to self-sabotage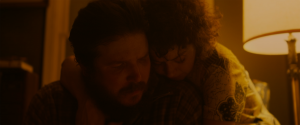 But the story of Blaze could also carry the subtitle of "how to self- sabotage". Clearly the man had a great talent. But he also had a great talent for destroying himself. Survivor of polio, he limps and always walks as if he were drunk. Something that, once in the difficult world of music, becomes his daily life. And that will lead him to his loss.
Moreover, one of the moments that touched me the most (yes, it's a touching film), is when his muse, his wife, his love, tells him: "I think my days of being your muse are over…"
For those who imagine that I am selling punches, we know all that from the beginning of the film. Or almost.
But Still…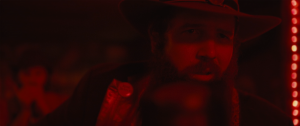 How can a man with so much talent and luck find himself in a situation like this? How can we find ourselves "barred" in all bars when we are so good? By fighting with customers. Or by shitting everyone by whining more than singing…
Blaze is a beautiful film that shows all the talent of director Ethan Hawke, also a great actor. It is also the story of the fall of an almost legendary musician. A shooting star…
Rating: 8/10
Watch the Trailer: