"There is someone at the door.
— Ah, it's Dieu! "
By the grace of Dieu (Duane Nakia Cooper), Sven (Kevin Van Doorslaer) and Chantal (Chloe Van Doorslaer) decide to spend one last night with their dad, whose funeral is tomorrow.
For his first short film as a director, Kevin Van Doorslaer is offering a funny but intelligent film. With Rendez-vous mè, Dieu (Rendez-vous with God), he touches on a universal subject: death.
A mix of cultures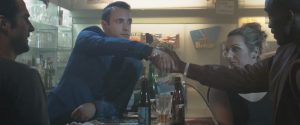 I really like the idea of mixing cultures, even when someone dies. In fact, especially during a death… And in Rendez-vous mè Dieu, the approach is well done. Death remains a taboo subject in our Western societies. And we often have the impression that it's the same everywhere. But, as Dieu explains, "At home, in Africa, when a person dies, we spend the last night with the dead." And what do they do? We could simplify by saying that they are partying. They actualy celebrate the dead.
Death is not an end in itself. Obviously, here, the characters do not do things halfway. I will not say what happens to keep a bit of mystery, but we could say that it rocks!
Original despite the subject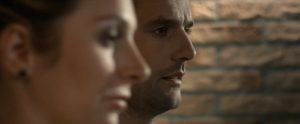 From the outset, we cannot say that the subject is very original. Death has been treated again and again and in all its forms. Or almost. But Van Doorslaer manages to create a surprising work. It must be said that his characters, although somewhat stereotyped, are well developed. And the subject is treated with humor, but respect. We are far from easy clichés in Hollywood cinema.
And it's amusing to see the sister send the owners of the funeral home off in a rather brutal way, asking for a supplement to keep the home open to visitors.
But still…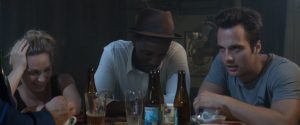 Rendez-vous mè Dieu is played in Brussels dialect. It's a mix of Flemish and French. More people speak it in Belgium. And this is the first time that a film turns in real Brussels dialect.
The film is divided into three parts: the funeral home, the meeting with Dieu, and the cemetery. The short film offers a black humor that allows us to laugh despite the seriousness of the subject.
Rendez-vous mè Dieu has been selected at the Nice International Film Festival 2018 and the Albuquerque New Mexico Film and Music Festival. Not to mention that it is selected for Cannes Short Film Corner. Hopefully it becomes available to the public soon!
Rating: 8.5 / 10