"We are on the run. "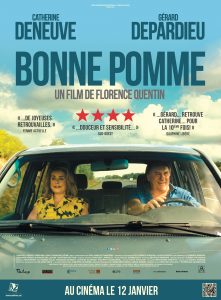 Gerard (Gerard Depardieu) is tired of being taken for a good apple by his in-laws. He leaves everything and goes back to a garage in a village nestled deep in the Gâtinais province. In front of the garage, there is a lovely hostel, owned by Barbara (Catherine Deneuve): a beautiful, disconcerting, mysterious and unpredictable woman.
Bonne pomme, from Florence Quentin, is the story of a man who is tired of being bossed around. But can he really change just by leaving his little world?
The in-laws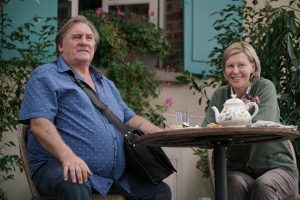 Behind him, in the Paris suburbs, Gerard left his wife, but especially his mother-in-law, Granny. She was the first female mechanic in France, she is ashamed of her daughter, but she loves her son-in-law and her grandson Manu.  Night and day, she's thinking of leaving to find Gérard. She loves him more than her own daughter.
The funny side of Bonne pomme comes largely from Gerard's wife. I personally find hillarious to see this 60-year-old woman who's crazy about country music and getting dressed up in tight mini shorts, with a mini-heart-shaped top tied with a knot over her belly button. Yes, that kind of 60-year-old woman who thinks she is 16.
The village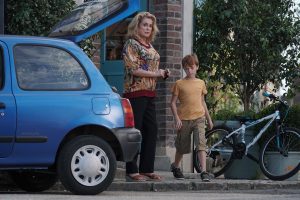 The countryside where Gerard end up is quite typical of small villages, not only of France, but in general. People leave – or at least desire to -; there is no more priest, the church is closed during week days, and it is the mayor who takes care of everything. It is another France, it is the province of today, with whole streets for sale. There is a certain melancholy. And then all the same, the inhabitants try to pull through. There are those who dream to go to Uzbekistan and those who try, like the mayor, to make the village more welcoming, teaching English to the shopkeepers sot hey can greet tourists better.
The village confirms us that the idea of leaving is something recurrent. It is in this context, in this small provincial village, that the unlikely meeting of Gerard and Barbara will occur.
Gerard and Catherine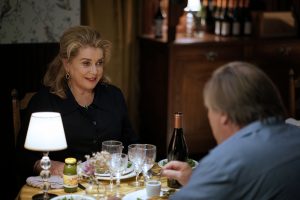 A fun casting at the present time. The two actors had a higher popularity rating in the past. Depardieu never really recover from his "Russian" episode and Deneuve has recently put himself in a delicate position with her "pro-aggression" comments.
But let's go back to the movie …
The meeting of Gerard and Barbara will create sparks … This elusive, and therefore fascinating woman is the heroine of the village's soap opera.
She seems to come from another era. She is everything Gerard has never known: refinement, charm, taste, but also all he has known: abuse and selfishness.
He comes from a garage in the very big suburbs that he never left. He's a good guy who gets fooled, gets cheated, and one day can't take it anymore; he is too humiliated, so he leaves.
With these two characters, we navigate between the fun of seeing all that Barbara makes endure to those around her, and the help she continues to receive, and the pity of seeing Gerard being led on. This woman does the worst things to him, but he continues to help her because she fascinates him. He does not understand her, but she delights him.
But still…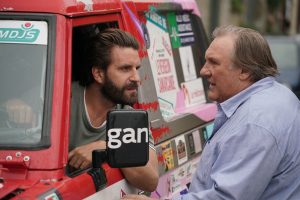 Bonne pomme offers us a representation of modern women. They are strong, they are enterprising. They work hard, they leave, they deceive … It is the reflection of our time.
Whether we like them or not, we must admit that Depardieu and Deneuve are great actors. Therefore, Bonne pomme is the opportunity to see them exchange words without having to rack your brain…
Rating: 7/10
Translation by Jean-Sébastien Bourret