It is not always easy for film professionals to find relevant information about past, present or future films and series. Who produced such a film? Who owns the rights to broadcast this other film? Who wrote the music for this series? Not easy to find these answers.
Of course, there is IMDB, which can help. But beyond the production companies and creators with the most famous roles, there is little information about the films. Even less if the film is not American or a big international production.
But I discovered, thanks to a person I met at an event, a new platform that could well revolutionize the cinematographic environment for professionals of the seventh art: Moonday.
What is Moonday?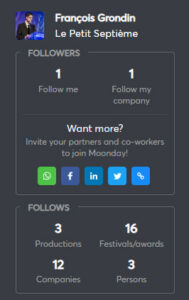 Moonday is a nice mix of tools to centralize effort and information for a film professional. More specifically, it is a B2B social network with a collaborative and international database of cinematographic art. But it's not just that. It's also a management tool offering great promise that I'm starting to test.
So rather than searching Google, IMDB, LinkedIn and several distributor sites to find out who to contact to broadcast a specific film, Moonday offers (or will offer) the possibility of a single search, within a single tool, its application (web or mobile).
How it works?
Divided into 3 main uses, this tool allows you to communicate around your projects. And since Moonday has no commercial algorithm, you are assured of a visibility reaching 100% of your community. It's much better than Facebook which allows you to be seen by about 10% of your followers when you share something (if you don't pay for visibility). We are, therefore, talking about a social network specializing in cinema, series and any other project in the creation of moving images. 😉
Moonday is also a database that allows you to find new projects easily and contains the contact details of professionals represented by more than 100 nationalities. And the bigger the tool, the more you'll be able to find the information you're looking for. And it's growing fast.
For each type of profile, Moonday has created management tools connected to the database. They will allow you to manage your schedule, your meetings, the broadcasting rights, and many other things. I told you that Moonday made it possible to eliminate the use of several tools that do not communicate together. Here, you can therefore not only search for films, show your CV and share your discoveries in cinema, but you can manage your appointments and your professional contacts.

Moonday is basically free, but reserved for industry professionals. You can use the database and communicate via the social network for free. You can request to receive notifications for a certain number of projects or on a certain number of people as well. And with the Premium version, you can also use unlimited management tools such as prospecting pipeline, tasks and note taking. Restrictions on the amount of projects and people followed also disappear.
Who exactly is it for?
It's no secret that access to information and networking are the heart of the film and audiovisual industry and the main resource for developing your business.
Moonday offers, thanks to its database which evolves every day, thanks to the work of artificial intelligence and the motivated team behind the creation of the tool. This database is enriched by public information that is shared every day on the Internet. The evolution of the database also relies directly on the Moonday community. Hence the importance that people in the community register for free.You can register on Moonday by following this link.