"They are few and we are many. And if we come together, we're a force."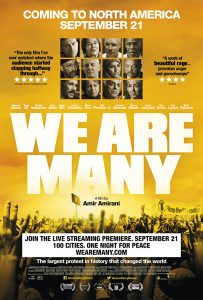 On February 15th, 2003, up to 30 million people, many of whom had never demonstrated before, came out in nearly 800 cities around the world to protest against the impending Iraq War. WE ARE MANY is the never-before-told story of the largest demonstration in human history, and how the movement created by a small band of activists changed the world.
After 9 years of research, filming and traveling in 7 countries, Amir Amirani presents We Are Many, an honest documentary which, despite several weaknesses, remains a relevant historical document.
The Greatest Protest in History
In London alone, it is between 1.5 and 2 million demonstrators who took the streets by storm on February 15, 2013. On the whole planet, it was more than 30 million demonstrators, distributed in 72 countries. There had been demonstrations on all continents, including even Antarctica, with a delegation of 17 demonstrators. 😀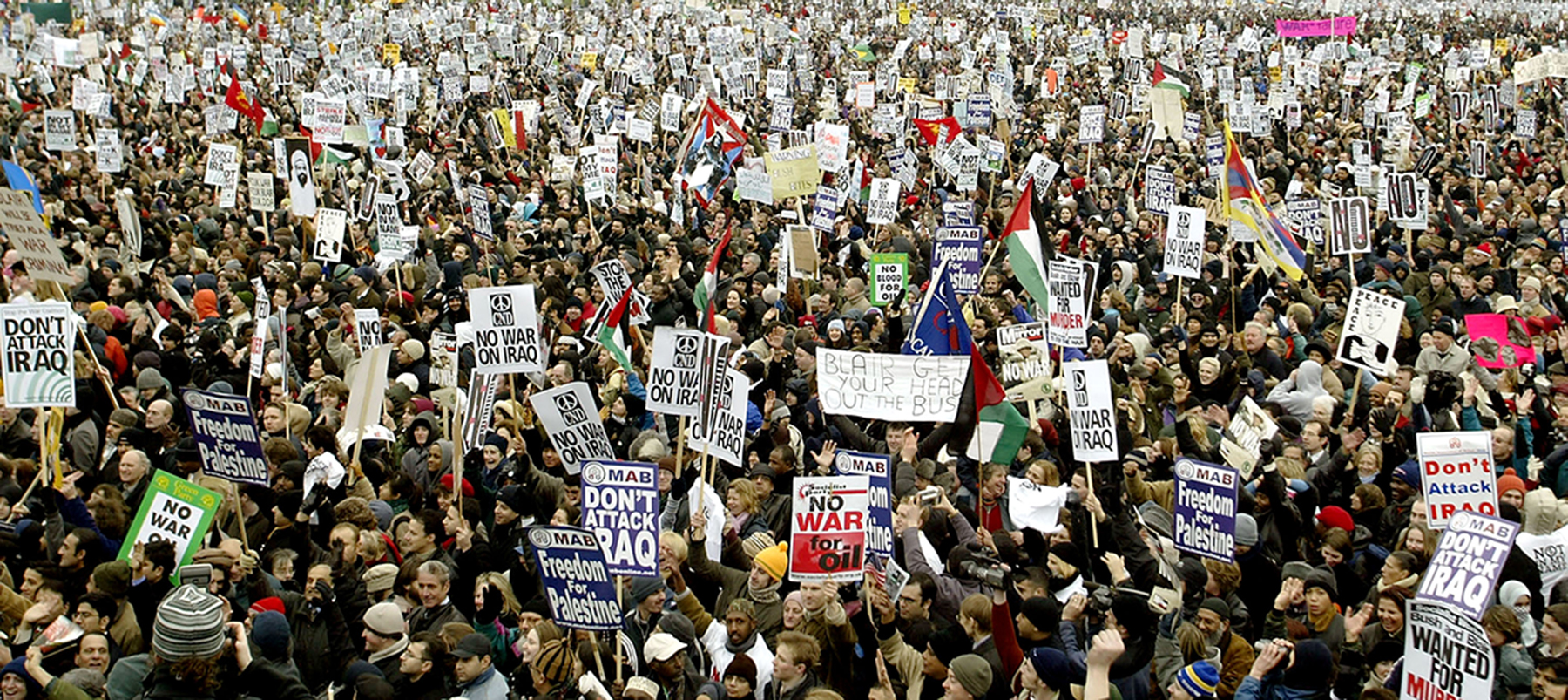 This day of February 15 even entered the Guinness Book of Records. Since then, there have been monster gatherings – among others with the protests for the Earth led by Greta Thunberg – but we must not forget that 2013 was before the rise of social networks. No Twitter or Facebook to mobilize the troops. And it all started with a group of activists who wanted to oppose the creation of a war in Iraq. Why? Because this war was unjustified and the political leaders who wanted to get into it lied about the reasons for this war. Avenging September 11… But Iraq had nothing to do with September 11. On the other hand, Hussein was not an ally of the United States and there was a lot of oil in that country.
What's the point?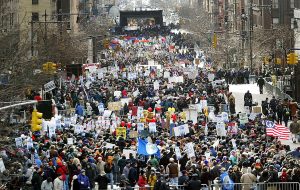 The objectives of the documentary is to show how big a demonstration it was. And it seems to want to show, too, that when we unite, we can change the world. But this unjust war, didn't it actually take place? The message we hear when we finish We Are Many is that we may be right, we may have the numbers, a government can always cover its ears and do what it wants. The United States and the United Kingdom will have gone to war. They will have driven Hussein out and put in place an even more destructive regime. Like in was the case in Afghanistan when they set up the Taliban and Al-Qaida in place.
I'll repeat. A little over a month after this demonstration, the war in Iraq was launched, led by the United States and the United Kingdom, with foreseeable tragic consequences, from which we are still living 17 years later. And although the UN declared this war illegal, Blair and Bush have never been charged with a war crime or a crime against humanity. Despite the hundreds of thousands of civilians who died during this war. One sequence (possibly one of the best in the movie) shows Bush even making jokes about the alleged weapons of mass destruction Iraq was supposed to possess. Weapons that have never been found despite the almost total destruction of the country. No, there wasn't any.
A few weeks ago, I saw On the Wire, a documentary on the same subject, but from a Canadian perspective rather than a British one. Some figures vary, but the conclusion remains the same: It was known that there were no valid reasons to attack Iraq, but the United States and the United Kingdom took the opportunity to lead their little war.
But still…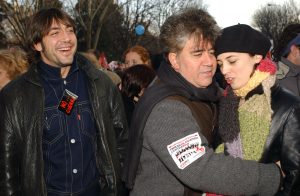 Amirani's documentary is long. He could have cut a good fat 15 minutes. It's repetitive. There may be too many people coming to give their opinion. Political analysts are relevant, activists who participated are relevant. But there are a lot of actors and musicians who are featured for various reasons. But it looks mostly like they're there to add some big names to the credits. Just for fun, here is the long list of speakers:
Amira Howeidy – Egyptian journalist

Anas al-Tikriti – CEO and Founder of The Cordoba Foundation

Andy Young – A mechanic at McMurdo Station in Antarctica

Ashraf Khalil – Journalist and Author of the critically acclaimed book

Liberation Square: Inside the Egyptian Revolution and the Rebirth of a Nation

Bill Fletcher Jr. – Activist and Author of

They're Bankrupting Us!

Brian Eno – Musician, Record Producer and Theorist

Chris Nineham – Political Activist and Founding Member of the Stop the War Coalition

Clare Short – British Politician

Colleen Kelly – A Founding Member of the organization September 11th Families for Peaceful Tomorrows

Damon Albarn – Musician and Record Producer, best known for Blur and Gorillaz

Danny Glover – Actor

Lethal Weapon, The Color Purple, To Sleep with Anger

Dave Burgess – Australian Environmentalist

David Babbs – Co-founder of campaign community 38 Degrees

David Blunkett – British Labor Party politician and the Member of Parliament for Sheffield Brightside and Hillsborough

David Cortright – Director of Policy Studies at the Kroc Institute and Chair of the Board of the Fourth Freedom Forum.

Esther Vivas – Activist in a variety of social movements in Barcelona

Gasser Abdel Razek – Human Rights Activist

Hani Shukrallah – Egyptian Journalist and Political Analyst

Dr. Hans Blix – Former UN Weapons Inspector

Hossam Hamalawy – Egyptian Journalist, Blogger, Photographer and Social Activist

Jeremy Corbyn – Chair of the Stop the War Coalition and a Member of Parliament for Islington North

Jesse Jackson – Founder of Rainbow/PUSH

Joan Blades – Political Activist and Blogger at Huffington Post

John le Carré – World-Renowned Author of

Tinker Tailor Soldier Spy

John Rees – Political Activist, Broadcaster and Writer who is a national officer of the Stop the War Coalition and Founding member of Counterfire

Ken Loach – Director

I, Daniel Blake, Sorry We Missed You

Kevin Martin – Executive Director of Peace Action and Peace Action Education Fund.

Lawrence Wilkerson – Former Secretary of State Colin Powell's Chief of Staff and Associate Director of the State Department's Policy Planning

Leslie Cagan – Activist, Writer, and Socialist Organizer

Lindsey German – Convenor of Stop the War Coalition and Co-Author of

A People's History of London

.

Lord (Charles) Falconer – English qualified barrister. The former UK Lord Chancellor and first Secretary of State for Justice spent 25 years as a commercial barrister, becoming a QC in

1991

Mariah Crossland – Worked in the US Antarctic research center at the McMurdo in Antarctica.

Marina Sitrin – Writer, Lawyer, Teacher, Organizer, Militant and Editor of

Horizontalism: Voices of Popular Power in Argentina

and the Author of

Everyday Revolutions: Horizontalism & Autonomy in Argentina

Mark Rylance – Oscar-Winning Actor

Bridge of Spies

,

Dunkirk

Medea Benjamin – Code Pink Co-founder

Noam Chomsky – Philosopher and Activist

Patrick Tyler – Journalist and author whose career in newspapers includes 12 years at The Washington Post, and 14 years at The New York Times, where he was chief correspondent

from 2002-2004

Peter Oborne – Chief political commentator of the Daily Telegraph and reports for Channel 4's Dispatches and Unreported World

Philipe Sands – British and French lawyer at Matrix Chambers, and is Professor of International law at University College London; author of

Lawless World (2006)

Phyllis Bennis – Directs the New Internationalism Project at IPS; writer, analyst, and activist on Middle East and UN issues

Raffaella Bolini – Member of the International Council of the World Social Forum, the Executive Committee of the Euromed Network for Human Rights, and is vice president of the European Civic Forum

Richard Branson – Business magnate, investor, author and philanthropist

Robbie Liben – Former senior computer technician at McMurdo Station in Antarctica

Robert Greenwald – Founder and president of Brave New Films (BNF)

Ron Kovic – Veteran and Author of

Born on the Fourth of July

Salma Yaqoob – Former leader, and former vice-chair of the Respect Party and a former Birmingham City Councillor. She is also the head of the Birmingham Stop the War Coalition.

Sameh Naguib – Egyptian sociologist at the American University in Cairo, a socialist activist and a leading member of the Trotskyist organization the Revolutionary Socialists.

Susan Sarandon – Actress

Thelma & Louise, Dead Man Walking

Tariq Ali – British political activist, writer and journalist

Tim Goodrich – US Air Force Veteran who co-founded Iraq Veterans Against the War in 2004

Tom Hayden – Social and political activist, author, and politician

Tony Benn – British Politician who served in Parliament for 47 years

Vanessa Branson – Sister of Richard Branson; a found of Marrakech Biennale

Wael Khalil – Egyptian political activist

Will Saunders – Astronomer
Moreover, the more I look at this list, the more I find that there are perhaps too many activists too. Especially since the message is always the same: it was so beautiful and big…
In the end, We Are Many is a relevant historical document, but a bit long and boring film. It is still interesting to see it.
Rating: 7/10
Trailer