"I know you don't have cancer and you're lying just like in high school."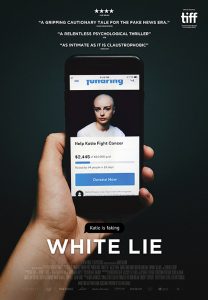 Katie Arneson (Kacey Rohl) is faking cancer. A university dance major, Katie's falsified diagnosis and counterfeit fundraising have transformed her into a campus celebrity surrounded by the supportive community she's always dreamed of: a close-knit group of friends, security in her academic pursuits, and a caring relationship with her girlfriend (Amber Anderson).
With the powerful White Lie, Yonah Lewis and Calvin Thomas take us into the world of lies and abandonment. They create a poignant and disturbing work.
The lie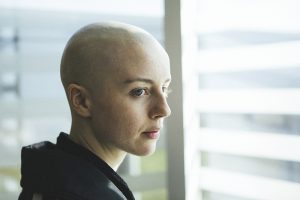 Dependent on a scholarship for sick students, Katie learns that funding is in danger unless she can provide copies of her medical records within a week. Seeking the advice of many others, she begins the dangerous process of counterfeiting. This task is more expensive and more complicated than she had anticipated.
How does someone come up with such a big lie? This is the question that runs through the head throughout the film. Is it for the money? For a need of love? For celebrity? Anyway, Katie is determined to continue with her lie. No one, except a friend who supplies her with illegal material, is aware of it.
The treatment of the story and the character ensures that the viewer does not get attached to the character, wonderfully interpreted by Kacey Rohl. But at the same time, we end up having a certain pity for this sad person. Rohl also explains this about his character:
"I completely understand the weird things humans do to keep themselves safe and to find love and get attention. I think it's objectively a horrific lie to tell; it's unkind, it's massive, it's blind to the experiences of others. Sometimes we do awful things to get good things and it's unfortunate that we can't just say what we need."
Besides, the actress shaved her head live for the trailer. Watch it, you can't help but see the film afterwards.
Paying the price
But obviously, when we embark on this kind of lie, there is a price to pay…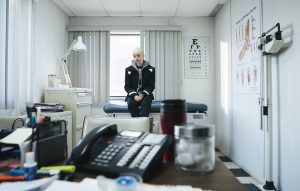 The first part of White Lie shows how the young woman gets caught up in the game. Taking selfies and videos of "thank you my friends" is easy. And when it works, we easily get caught up in the game. Then everything changes and the second part emphasizes on the stress it creates on Katie. Because the more she embarks in this "game", the more she sinks into the necessities allowing her to keep people believing. Like a messiah, she must constantly find more and more complex deceptions so that people continue to believe in her illness. Then comes the fatal moment when she must prove, supported by the medical register, that her cancer is real…
Follows a descent into hell. A real emotional whirlwind shown by a mobile camera and off-axis music. And her demons will eventually catch up with her. Without forgetting that the young woman is not a great criminal. She is only a sick girl, who's in bad shape… Yonah Lewis explained this during an interview:
"We've tried to pull a pretty major shift in the final act. We loved the idea of starting the film as a procedural; showing how she gets money, how she gets her prescriptions, how she's been getting away with it for so long. But ultimately we knew the film wasn't a crime film. She's not a criminal mastermind trying to pull off a bank heist."
Sound and image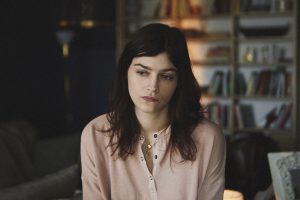 I cannot ignore the soundtrack. The music, from the very first plan, is jerky, even deconstructed. At times, you could almost believe that they inserted foreign scores together, without ensuring that the rhythms and tones went together. And yet, this "disarticulated" music greatly contributes to showing and making the character's state of mind felt.
As for the image, the directors opted for 35mm and a slightly more grainy texture. This choice also contributes to the feeling of insecurity or uncertainty felt by the spectator.
But still…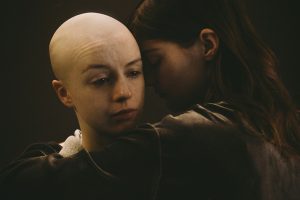 By following Katie Arneson as she tries to obtain medical documents for a scholarship, for sick students, White Lie offers us a realistic perception of the universe of people who try to make fraud based on a disease. We can also see them regularly on crowdfunding platforms.
We end up in an intimate film, which forces the viewer to make a difficult choice: I want her to succeed, or I want her to be caught. And for once, the love story integrated into a dramatic film is not useless. Here, the lover plays a key role in this whole story.
White Lie is a film that I strongly recommend to you.
Rating: 9/10
Watch the trailer: