« I love having beautiful tits »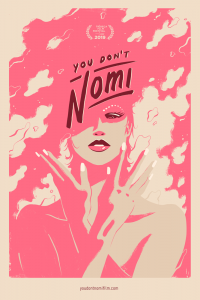 Paul Verhoeven's Showgirls (1995) was met by critics and audiences with near universal derision. You Don't Nomi traces the film's redemptive journey from notorious flop to cult classic, and maybe even masterpiece.
Showgirls won the Razzie Awards for the worst film of the decade. Was it deserved? This is sort of the question behind Jeffrey McHale's You Don't Nomi.
Piece of shit or masterpiece?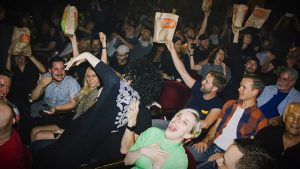 Sometimes the line is thin between a flop and a great film. It's kind of what we discover as the documentary advances. Throughout the film, we hear testimonies from critics, experts, analysts, who tell how they demolished the film when it was released, and how, today, they are ready to backtrack to say that Showgirls is a great movie. There is one who even goes as far as to say that it would be a Masterpiece.
Through extracts and testimonials, we can only agree to two things: Berkley offers a character of particularly crazy intensity, and the dialogues can seem empty. But when two characters talk, they must have logical discussions. It is therefore not so ridiculous that the two dancers talk about their nails (several times).
As for the performance of the actress, in my opinion – and that of several of the commentators of You Don't Nomi – she was judged very harshly, unfairly. The intensity of the character was a request from the director, and that contributes to the atmosphere of the film. When you watch some of David Lynch's films, you never say that his characters are too intense. And yet, it is often the case. So how is it that this role destroyed Berkley's career? There is an unfortunate tendency in Hollywood, to destroy the careers of actresses who dare to wear an intense character, in a film where there is an assumed sexuality.
Yet, as Verhoeven said in an interview in 1995, "Sexuality is part of our lives and we shouldn't be ashamed of it. 
At the interSEXion of Verhoeven's films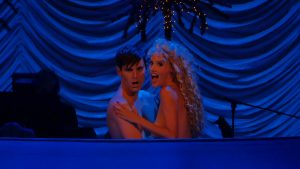 Another very interesting thing about the documentary is the way in which the director links the different Verhoeven films. Rather than simply showing the images one after the other, he integrates two sequences into the same image. For example, we can see the character of Michael Douglas typing on the computer. But instead of seeing the real image on the screen in Basic Instinct, we rather see the name of Nomi Malone which appears as the investigator writes. There are also sequences in which they include extracts from Showgirls in Total Recall and in Robocop.
And all these intersections of images lead to the observation that Paul Verhoeven deals with characters who assume a violent sexuality in practically all of his films.
But still…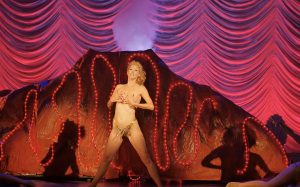 The only real weak point here is the too much space given to theatrical shows that relate to Showgirls. It is very interesting and relevant to show us that the cult film of 1995 was transposed into a show that has been going on for a while. It's less relevant to start explaining to us how much it saved the life of the actress who plays the roles of Berkley. It is sad to know that this woman was raped. And it's great to know that she was saved by the audition that gave her the role. But is it really relevant to dwell on the subject for more than 20 minutes?
Despite this, You Don't Nomi is worth seeing. It is not common for a film that has been destroyed by critics and shunned by moviegoers to become a cult film. And if you've seen Showgirls, you'll love McHale's documentary even more.
Rating: 8/10
Watch the trailer: