2019 is coming to an end; the time has come for cinematographic assessments.
Long métrages
5 – Sole (Carlo Sironi) – Italy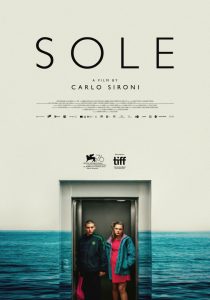 Ermanno and Lena are two strangers. Lena has come from Poland to sell her baby. Ermanno has to pretend to be the father so that he can entrust the newborn to his uncle Fabio. As Lena rejects her motherly desire, Ermanno starts to assume his role as if he was the actual father of Sole, the baby girl. Unexpectedly, they will experience family life together. 
In his first feature film, Carlo Sironi revisits typical family history. Here, he approaches a family nucleus which is built outside the filial bond. Not only the subject is new, but Sironi adapts it admirably: the characters' unease and unhappiness pierces the screen along the film, through the script and cinematographic choices. A film that clearly reports a fundamental identity questioning.
4 – La grande noirceur (Maxime Giroux) – Canada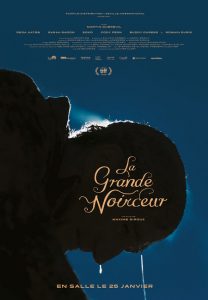 While a world war rages, Philippe, a draft-dodger from Quebec, takes refuge in the American West, surviving by competing in Charlie Chaplin impersonation contests. As Philippe makes his long journey home, he encounters various characters under the sway of a destructive madness borne of the chaotic times. His voyage, both violent and fascinating, is a hallucinatory initiation to the darker side of the American dream.
With La grande noirceur, Maxime Giroux offers a surreal universe in which the twists and turns take us one after the other. All of this takes place in a breathtaking setting. The photo director did a remarkable job, creating a real feast for the eyes from start to finish.
3 – Le daim (Quentin Dupieux) – France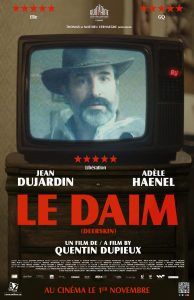 Georges, 44, and his jacket, 100% deer, have a project.
It's hard to believe that a comedy is part of this review since I don't usually love this genre. But this dark comedy is far-fetched and senseless. We are constantly surprised by Georges' actions, which can only cause laughter. And, despite everything, we believe in his behavior. Jean Dujardin builds his character like an actor at the top of his art. Same thing for the director, Quentin Dupieux, who did absolutely everything, from the script to the editing. And the result is a work where image, script and interpretation are perfectly tied up together.
2 – Leto (Kirill Serebrennikov) – Russia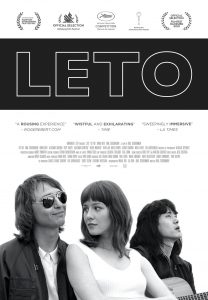 Leningrad, one Summer in the early Eighties. The underground rock scene is boiling.
Amongst the followers of Led Zeppelin and Bowie, young Viktor Tsoi is eager to make a name for himself. The encounter with his idol Mike and his beautiful wife Natasha will change his life forever. Together they will build Viktor's legend and make him immortal.
With Leto, Kirill Serebrennikov immerses us in the Russia of the 80s and, despite the cultural distance, the identification with the characters is ensured. I felt myself reviving with nostalgia the good years and the experiences surrounding the transition to adulthood, rocked by Russian music and the drawn and fantasized sequences… Sequences that transform this rather classic history into an innovative gem.
1 – Liberté (Albert Serra) – France, Portugal, Spain, Germany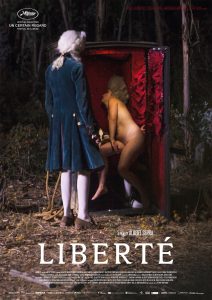 Shortly before the French Revolution in a forest somewhere between Potsdam and Berlin, a group of aristocratic libertines driven out of Louis XVI's puritanical court gather to act on their wildest sexual fantasies. Here, anything goes, with the quest for pleasure bowing to no law but that of satisfying one's desires. It's one long debauched night of limitless fantasies, highbrow decadence, smouldering glances and the most extreme fetishes. 
With Liberté, the Catalan director Albert Serra once again disturbs the conventions of historical film by making, from the history of 18th century libertines, a disconcerting film which leads us to question the very codes of pornography. But what is particularly exceptional in this feature film is the ability of the director to solicit the imaginative capacity of the viewer and to make him see images that he does not show, through the script and the shots. Few actions occur in the end; we assist to one and the same night, in one and the same place. But we are captivated from the beginning to the end, what a feat! Far from the typical historical films, Serra's treatment of the subject makes Liberté a daring cinematographic work, out of the ordinary and very current.
***
Short films
5 – Le Mal du siècle (Catherine Lepage) – Quebec
A young woman describes herself and her life in glowing terms, but the visual narrative tells a different story: with heart-rending power it illustrates the heavy burden of anxiety carried by this worried overachiever.
With simple, yet striking, 2D animation images, which are opposed to the narration, director Catherine Lepage highlights the ease with which we lie to ourselves and the way in which the rhythm of our society leads straight ahead to anxiety and depression. A short film that perfectly illustrates these still too taboo health disorders…
4 – Bon goût (Franie-Éléonore Bernier) – Quebec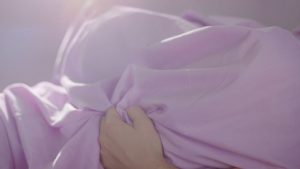 Etienne tastes love for the first time. Distraught, he cums in his pants giving cunnilingus to Mauve, the young woman he is in love with. Will he find the right words to justify his escape?
Through a light comedy, director and screenwriter Franie-Éléonore Bernier brilliantly succeeds in breaking the taboos surrounding several sexual practices. All this with beauty, delicacy and laughter. A perfect short film. A little gem.
3 – Jaeborn, numéro par numéro (Roger Gariépy) – Quebec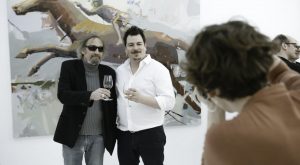 In March 2015, three paintings by Matt Jaeborn were put up for auction at Christies in London. These canvases are surprising: they are paintings by numbers made when the artist was a child. The triptych flies for $ 14 million. 14 million for three paintings by number! Who is behind this insane purchase? The great collectors? The Russian mafia? The painter himself? A fascinating investigation that uncompromisingly tackles the excesses of contemporary art.
We cannot say too much about this short film unless revealing the punches. What we can say is that it offers a critique of the current art market through the very nature of the film. The idea is brilliant. You have to see it to understand.
2 – S.D.R (Alexa-Jeanne Dubé) – Quebec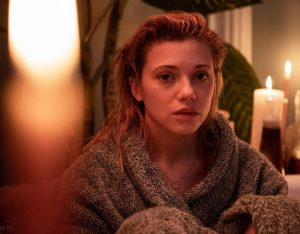 S.D.R. uses A.S.M.R video codes to tell a break-up sex story.
This fusion between the ASMR and the classic story of a couple breaking up creates an experimental and mesmerizing short film. The work on the soundscape contributes to the spell. Few dialogues between the characters: only gestures, words and sounds. Clearly a film to watch… and listen to.
1 – Mal de coeur (Franie-Éléonore Bernier) – Quebec
Ghislain (Pascal Contamine) is struggling to get out of a tough depression, fueled by a too long winter and a too flat life. When his heart begins to beat in his tailbone, his brother (Martin Dubreuil) arrives at the following diagnosis: he must learn to laugh again.
And the prize for short films goes to this film which contributes as well to lifting the taboos surrounding mental health. With Mal de Coeur, Franie-Éléonore Bernier nevertheless treats it through a humorous veil. Ghislain's extravagant symptoms and his brother's attempts to cure him give the film a comical tone, and the viewer cannot help but laugh many times. But the filmmaker uses comedy in a brilliant way to destigmatize these too frequent sufferings.
And that's why I'm very happy that two films on the subject appear in this review; it shows how urgent the issue is today… But also that progress is being made to talk about it in the public space.
***
I assure you, this was not a review of the best Quebec short films of 2019, but rather a review of the best short films I saw in 2019, all categories mixed up together. And I've seen many international short films! I'm even happier to see that out of 4 directors, 3 are women. Three inspiring women whose work I will certainly follow in the coming years…
A special mention …
Why is there no documentary in this report? For me, documentaries and fiction films do not share the same codes, they thus cannot be compared. I would still like to make a special mention to the latest documentary by Sergei Loznitsa: State Funeral, in which he retraces the ceremonies surrounding Staline's death. The director uses only archival footage, yet his message pierces the screen: the image has incredible power in building a personality cult or dictatorship. A reflection that has more than its place in our society where the image is everywhere…