"Since I could walk."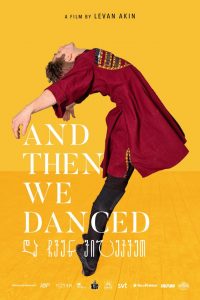 Merab has been training since he was young at the National Georgian Ensemble with his dance partner Mary. His world is suddenly turned upside down when the charismatic and carefree Irakli arrives and becomes his strongest rival as well as his desire. In the conservative world he lives, Merab finds himself liberating. But at the same time, he finds himself in a dangerous situation.
Inspired by true stories, And then we danced is a unique film which exposes issues in Georgian modern society. With the theme of dance as a symbol of Georgian national identity, Swedish director Levan Akin succeeds in showing complex cultural and identity struggles occurring among the young generation.
In the ocean of tradition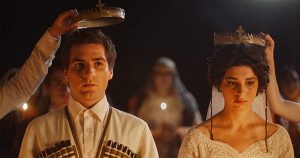 The atmosphere created in the film is particularly interesting. From the beginning to the end, the story takes place almost always in the dance school (The Georgian National Ensemble), in town (probably somewhere in east of Europe; later in the film Tbilisi is mentioned), and in the house of the main character, Merab. But the ambience is so classic that it is not obvious (at least for a Japanese) to recognize when the film is set. The sacred and ritual polyphonic choral played in the garden intensify that archaic impression. Only by a few elements such as mobiles (PC and smartphones) or a very quick talk on the famous Argentine soccer player, Lionel Messi, we recognize that it is the 21st century. 
"In Georgia, traditional values are still very powerful. […] To a country that had been conquered several times over centuries, cultural identity is a question of survival," explains the director whose ethnic roots belongs there. The dance became in this sense a perfect figure to show this reality, this cultural intensity existing in real daily life. What is the tradition to young people? 
And why dance?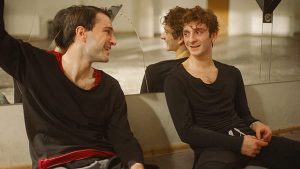 Indeed, that is a question to Merab. When Irakli arrives to the class, Merab is facing a slump in dance, and his dancing life is threatened. It is suggested that he dances because everyone dances; his father, his grandmother, and his brother… everyone. His life has been deeply traditional and determined by his surroundings. Even Mary was not his real choice. He regards her as his girlfriend simply because they are paired since ten. Here, tradition appears to be a synonym for a predetermined life. The old instructor Aleko is not satisfied with Merab's dance, because he dances too softly and lacks spirit and vigour. But Merab's world made a 180 degree turn when Irakli arrived, because he is interested in someone, probably for the first time in his life. 
Beyond the convention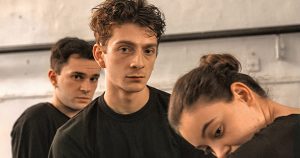 For the old generation, the dance is the spirit of their nation. But is it that important as well for the young people? It is thought-provoking to see how Aleko, who is supposed to represent the traditional authority, reacts to Merab's transgressive performance at the end. This scene is inspiring, because it shows that not only the young generation confronts tradition, but the old generation does it also in their own way. To confront it is the best way to keep it strong. To take up the director's statement, "even when you try to change to a different direction, you still can keep your tradition." The form may change, but the spirit of dance shall remain. And this essential vision is beautifully reflected in Merab's last dance, which embodies his love for Irakli – as well as the new generation itself.  
Finally, dances shown in the film are played by real Georgian dancers and they are amazing. The performance of Levan Gelbakhiani, Merab in the film, is excellent as well. For example, the character's naiveness and suppleness appear naturally through the way he behaves and smiles with joy when he spends time with Irakli.
Although the storyline itself might sound not so original, it would be worth watching for anyone who likes dance, of course, and traditional music, but also who questions tradition. 
Note: 9/10
And then we danced is screened at the FNC on October 10, 13 and 19.
Watch the trailer here: