"It's living in the past that's scary. Not mudslides."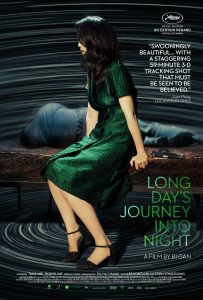 Luo Hongwu returns to Kaili, the hometown from which he fled several years ago. He begins the search for the woman he loved, and whom he has never been able to forget. She said her name was Wan Quiwen…
Bi Gan's Long Day's Journey Into Night is a film that focuses on poetry and atmosphere rather than history. And, for those who see it in theaters, on a passage from 2D to 3D in in the middle of the film.
The magic realism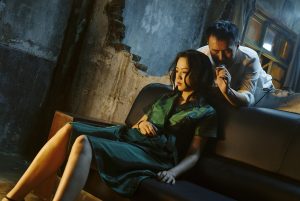 Bi Gan's film could be part of the magic realism movement. This movement of contemporary chinese cinema, led by Wong Kar-Wai, offers a cinema that focuses more on emotion and the atmosphere than on history as such. Here, the humid climate of Kaili, where the plot takes place and where the film was shot, allows the director to use reflections and heaviness to create a feeling (or a need) of lightness in the characters.
Moreover, some beautiful moments of Long Day's Journey Into Night show precisely this thirst for lightness, for example, when a young man explains to Luo Hongwu that, if he quickly turned the ping pong racket (on which appears a bird with spread wings on each side), he could fly wherever he wanted.
Living in the past to accept the present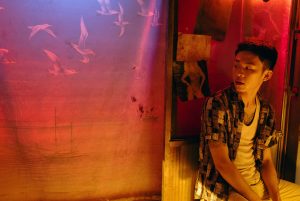 The story is rather banal: a man is looking for a woman who marked his life while still a teenager. He is almost haunted by her, the young woman having left him a green notebook when she left the city of Kaili where they both lived.
All the meetings of the male character will be in the name of the search for this lost woman. And this adventure will help Luo to accept his present. Adventure, because each person who crosses his path has a little something strange. A young man who lives in a disused mine, a young woman who runs the billiard room of her lover while waiting for him to come back… for a few months already. And this older woman who accepts a disappointing life because a little bit of honey is better than total bitterness.
Each one will allow Luo to evolve in his path so that he can finally make peace with his past. In order to show this progressive change in the character's state of mind, and to illustrate the quest, Bi Gan uses an original process: the transition from 2D to 3D in the middle of the film. After 1:10, the title of the film appears for the first time while the main character falls asleep in a cinema, and the rest of the film is then projected in 3D. The director explains his choice as follows: "It's a film about memory. After the first part (in 2D), I wanted the film to take on a different texture. In fact, for me, 3D is simply a texture. Like a mirror that turns our memories into tactile sensations. It's just a three-dimensional representation of space. But I believe this three-dimensional feeling recalls that of our recollections of the past. Much more than 2D, anyway. 3D images are fake but they resemble our memories much more closely."
Hard to understand?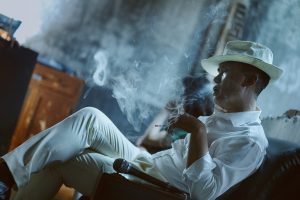 Long Day's Journey Into Night fits very well into the movement of magic realism, because it is made, not so much to be understood, as to be felt. "I'm always told my films are difficult to understand. But it's wrong – you need to feel them!" Hence the choice of a rather banal story. What matters is the emotion…
But still..
The director also opted for dialogues in dialect rather than classical Mandarin. "I find Mandarin quite dull and devoid of true beauty. Dialects inspire me to write dialogue or poetry." Moreover, the title in Chinese – Last sunset on Earth – is much more poetic than the one in French or English.
And to conclude this long investigation where atmosphere and poetry lead the way, we are entitled to a superb and very long sequence shot. A kind of descent that could, in a way, recall Dante's divine comedy. But I do not say more. Chinese cinema does not reach us very often. Take the opportunity to go see Long Day's Journey Into Night and to leave you disoriented.
Rating: 7.5/10
Watch the trailer: