« Je m'appelle… Romeo Castellucci! »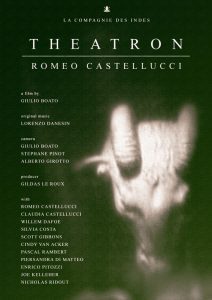 Director, set designer, and costume designer for more than 100 shows and operas, Romeo Castellucci lit up the European avant-garde theatre scenein the 1990s. An account of the Italian director's unique life, this documentary presents his prolific career with archival documentation of rehearsals and European tours that he conducted. Playwrights, composers, choreographers, and actors remember their artistic encounters with Castellucci, engaging in reflection on the deep roots of the theatre and its intrinsically linked relationship with human nature.
With Theatron. Romeo Castellucci, Giulio Boato offers us a documentary of great artistic and intellectual richness. And above all shows all the genius of the Italian creator.
Experimental at its best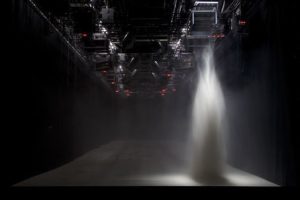 What do you expect from a group of four friends who start a theater company (Socìetas Raffaello Sanzio) because they cannot find anyone who offers a theater similar to what turns them on? I did not know Romeo Castellucci before seeing this documentary. But I know now that it represents exactly the type of theater that turns me on. An experimental theater in which you never know what to expect. A single baby on stage, interacting with a kind of scary robot… Dead animals taking part in the show… And even animal bone ash spilled in huge quantities on the stage.
Whether we like experimental theater or not, this film remains particularly interesting. We see another way of doing theatre. The excerpts chosen by the director are striking, intriguing and, in my case, make you want to leave for Europe to attend a play by Castellucci. Moreover, to illustrate his point, Boato begins his film with blurry images, in a square format.
The man, the theater, the interest
Which is the most interesting in Theatron. Romeo Castellucci, is not so much the interviews with his collaborators, as the moments when the man of theater explains us his approach, his interests and what repels him in the art. For him, we do not do theater for politics. But the theater is still political…
Of course, some testimonials are particularly interesting. I am thinking, among other things, of Silvia Costa's speeches about how she works with him and how they understand each other.
But still…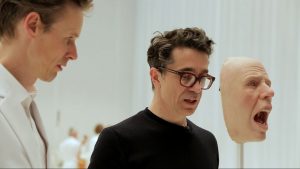 If I have a criticism to make about Theatron. Romeo Castellucci, it is that it's a bit short. I do not know if it was created for TV or if there is another reason, but I would have taken a little more. Especially when Castellucci talks about what he does. His passion goes wonderfully on the screen and I would have liked to know even more about what inspires him. Unfortunately, I do not have the impression of having fully covered the subject. But hey… It remains a very interesting film and, above all, a very good one.
A documentary accessible to all, which shows a theater that is, perhaps, less accessible.
Rating: 8/10
Watch the trailer: