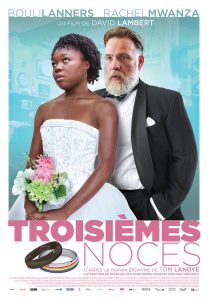 Martin (Bouli Lanners), an homosexual in his fifties, has a very difficult time mourning his recently deceised husband. He even considers ending his own life. His house is about to be seized, he is desperate. One of his friends, in love with a young African woman who has entered Europe illegally, offers Martin money to marry the young woman and legalize her status. Therefore, Tamara (Rachel Mwanza) settles at Martin's and, not without a struggle, they manage to share his house.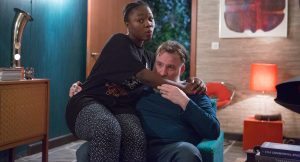 Of course, the Ministry of Immigration gets involved and the situation becomes quite goofy, as this old homosexual man and young black woman will try by all means to make their intimate relationship believable. A young African arrives, supposedly Tamara's brother, but who turns out to rather be her boyfriend, completing the picture.
This original scenario from David Lambert surprises us at all times. In Troisièmes noces, we go through homosexuality, racism, the clash of generations and illegal immigration.
Bouli Lanners is mainly known as a director, but he has also played in a multitude of mainly Belgian films. He has won several awards as a director. He is 53 years old.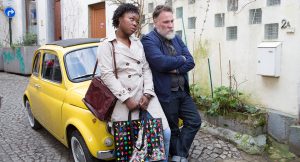 Rachel Mwanza is mainly known in Quebec, where she played the lead role in Kim Nguyen's Rebelle. This movie was very successful, having even been nominated for Oscars in the Best Foreign Language Film category. For this role, she won the award for best actress at the Quebec gala. She is only 20 years old.
The menu is a bold one, but it does not really conquer us. The film is well done but leaves us a little unsatisfied. As if the director could have gone much further and deeper in the treatment of all these subjects. We are witnessing an overview of various themes.
The images are effective, the setting is very original, but the acting lacks conviction. I felt more compassion than admiration for the actors during my viewing.
Troisièmes noces is not a failed movie, but it could have been better.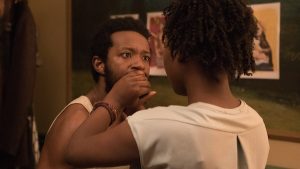 On the other hand, a very intelligent finale awaits us. It seems that the director has voluntarily built and prepared a strong allegory: the aging homosexual generation looks at procreative immigrant youth and admires its offsprings. This is a deep ending image.
Interesting topics, unfortunately not treated in the most convincing way.
Rating: 7/10
You can watch the trailer here: