"You're not a mother, you're not even a human being. "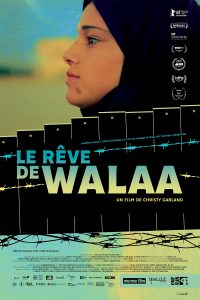 Raised in a refugee camp in the West Bank while her mother was in prison, Walaa dreams of becoming a policewoman in the Palestinian Security Forces (PSF). Despite discouragement from her family, even her beloved brother Mohammed, Walaa applies and gets in.  But her own rebellious behaviour and complicated relationship with her mother are challenging, as are the circumstances under which she lives.
Following Walaa from 15-21, with an intimate POV, What Walaa Wants, official selection at the RIDM, and the Berlinale, is the compelling story of a defiant young girl navigating formidable obstacles, learning which rules to break and follow, and disproving the negative predictions from her surroundings and the world at large.
An arrogant girl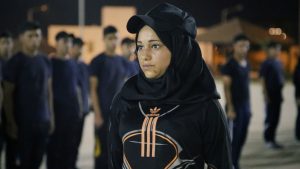 "She's a delinquent in a hijab. If she does make it into the PSF, she'll be a rotten, bad cop." This was the reaction of one of the director's colleagues when she presented him with the What Walaa Wants trailer.
I must admit that after 30 minutes of watching, I came to the same conclusion. In fact, I could not see how she could do it. And I almost hoped to see her fail. When she gets yelled at by an officer, I was happy.
But the more the film went on, the more I began to find her sympathetic, and to understand why the director devotes a film to her.
Gaza, Palestine, Israel…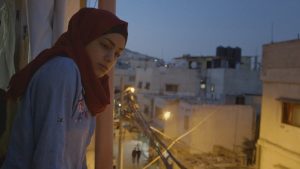 "I'm making this film because it's a positive, humorous, rousing story, with a focus on a great female character with some rough edges who's battling demons (and negative expectations) on various levels; an intimate story that will resonate in a larger context. Walaa's story will add something to the conversation. She's smart, funny, yearning for something, and vulnerable, but she's inherited her mother's temper and can be a royal pain in the ass. I love her for all of it, and I'm rooting for her as a human being, a girl who is interesting because she breaks rules, and because there are some rules she's learning to follow, the hard way."
Walaa lives in a refugee camp. Balata Refugee Camp, where she lives, was established in 1950. It has an area of 0.25 KM2 and a population of about 27,000. Yes, it makes a lot of people in a square foot!
The first part of the film takes place there. And every time I watch a documentary that takes place in this region, I come to the same conclusion: religions are really harmful.
Although the war between Israelis and Palestinians is not the subject of the film, it is still here, but in a subtle way. Just enough, in fact, to show the importance of this conflict for this family. Without this stupid conflict, Walaa's mother would not have been in prison. Neither her cousin nor the other members of her family who ended up there.
But still…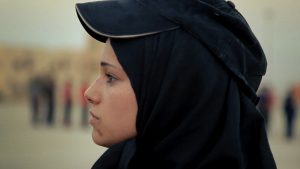 Although I was not convinced of the usefulness of this film at first (I had voluntarily avoided it at the RIDM), let alone after a few minutes of viewing, I had no choice but to end up on the director's side. This film is useful because it shows us the conflict through a simple family, a normal family… unfortunately. I say unfortunately because in my North American head, it is difficult to see normalcy in a family living in an apartment that is too small, dirty, with almost no furniture, no bed (they sleep on mattresses on the floor) and almost without money.
What Walaa Wants is a film that deals with a very complex subject, through a simple and charismatic character. This is the kind of film that could allow someone who knows nothing about the situation in the West Bank to learn a little without feeling overwhelmed. And to meet an inspiring young woman, a hope for those who have difficulties and dreams that seem impossible.
Rating: 8/10
You can watch the trailer: