« A different kind of zombie film. »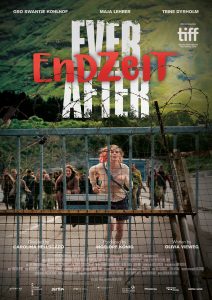 Two young women, Vivi (Gro Swantje Kohlhof) and Eva (Maja Lehrer), are fleeing the limits of the "no zombies" community of Weimar. Their journey takes them into a lush and beautiful post-apocalyptic landscape: in the absence of man, nature has taken over. Finally, realizing that the fight against the undead may not be theirs, a new understanding of the world appears to them.
Presented as a world premiere at the TIFF 2018, Carolina Hellsgård's Endzeit, reflects on our future existence, how we choose to live and what our options will be in a world where nature will take back its rights. The aesthetic is inspired by the original and refreshing style of Olivia Vieweg's graphic novel, on which the script is based. It also represents the friendship between two young women forced to emancipate themselves to survive.
The place of man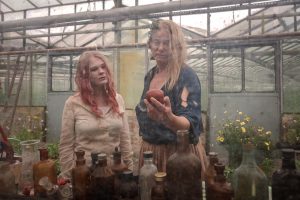 Two years after the zombies invaded the earth, the German cities of Weimar and Jena are perhaps the last bastions of human civilization. Behind this concept that seems to lead to something quite ordinary is a film that makes us think.
Yes, beyond the moments of action true to its genre (horror), Endzeit offers quieter moments, almost lyrical, where we follow the characters who move in this lush and post-apocalyptic landscape. We are therefore entitled to a zombies movie that leads the viewer to think, without realizing it, to the place of the man in the universe. And its role in the destruction of nature. A nature that, as we see more and more in reality, begins to show us that we are not the strongest…
Here, nature actually takes its place against the human, which can not do the weight while the zombies help nature to take back its place.
…And that of the woman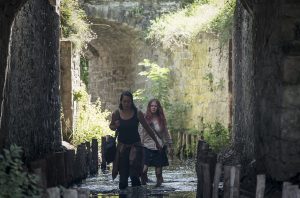 Endzeit was made last summer by a team of female creatives: with two main female roles, and all the key positions filled by women, this is the first zombie film released in Germany in recent years.
Does this zombie movie offer more thoughtful moments because it was done by a team of women? It's possible. The question is valid. But I do not think that's the reason why this movie is more than just a horror movie. I believe rather in the vision of the author and that of the screenwriter.
But it's interesting to see a work created by a team at the opposite of what we usually see, a team of men.
But still…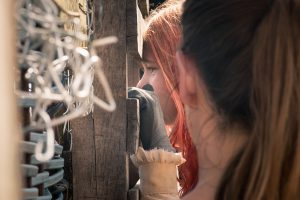 Endzeit follows two very different young women, Vivi (22 years old) and Eva (26 years old), who must unwittingly join forces. While fighting against the undead, they develop a strong friendship, while being forced to face the demons of their past as well as those of the present…
Now that humans are gone, nature takes over. But nature knows no borders and the two young women are soon to face a new and fantastic reality.
This film deals with guilt. But Endzeit is not only about guilt, but also about emancipation. Vivi and Eva are free from their past and embody a new form of coexistence, an exciting possibility for humanity.
Rating: 8/10
Endzeit is presented at the TIFF on September 7, 8, 9 and 11, 2018.