« Water here is so special… »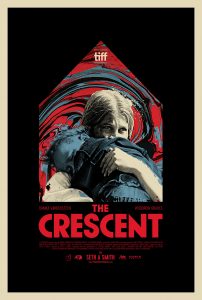 In an isolated beach house, a single mother struggles to keep her infant son safe from the influence of an otherworldly presence.
Directed, edited, co-scripted by Seth A Smith, The Crescent, selected at the last TIFF, is a transcendent look at loss, grief and single parenthood, told through the art of marbling and the eyes of a 2 year old child.
Death, parenthood and both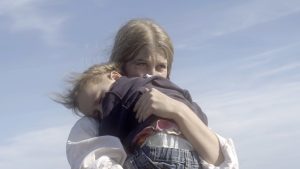 After the death of her husband, Beth, accompanied by her son of about 2 years old Lowen, retired to a seaside cottage at Silver Crescent Beach. The loss of her husband has been emotionally draining, and the additional pressures of single parenthood have become more important than she can bear. To help cope, Beth turns to her art – the process of abstract marbling.
But this work brings out the memories of her past life. Although the implications of his father's absence are not fully understood by him, Lowen also feels the loss. He demands constant attention from his mother, who does not have the energy to do it. As mother and son try to rebuild their bond, a mysterious force from the sea begins to haunt them.
The death of the father, but especially the theme of single parenthood, are at the heart of The Crescent. Despite the surrealist side that creates fear in this film, we believe in it. The relationship between the exhausted mother and the full-energy toddler is realistic and touching. Unfortunately, everything gets wasted…
Where I dropped out of it…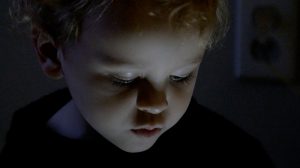 Beth descends further and further into sorrow and melancholy. In an imprudent gesture, fueled by the desire to be with her husband again, she abandons her son. Lost and alone, Lowen is forced to fend for more than 2 days. And there, I completely dropped out of it. A 2 year old baby cannot survive alone, in a house that he does not know (in addition) for so long.
It's a shame, because the film is poignant. But when you add something so implausible, it ruins everything. If we were in a strange type of universe in which it is plausible that a baby would live alone, that would be fine. But here we are in the real world. The world we know. With a little something that adds to the strange, but in our world all the same. Lowen should have died alone.
But still…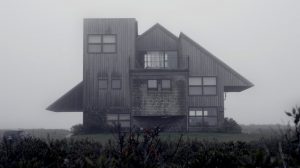 The Crescent is produced by Nancy Urich, Smith's long-time partner, and his own son, Woodrow Graves, 2 years old, plays Lowen.
A nice bet that would have worked if it was not the problem of the survival of the child.
Still an interesting movie.
Rating: 6/10
Here's the trailer: