With the darkness round me growing
And the moon behind my hat
You will soon have trouble knowing
Which is witch and whitch's cat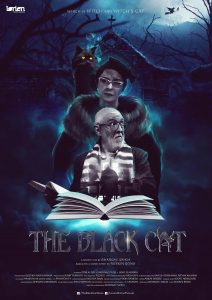 Mr. Bond, an old man (and a successful writer), purchases a broomstick from an antique shop. After returning home, it doesn't take long for a pesky black cat to show up and disrupt his quiet and peaceful life. The cat seems to be especially drawn to the broomstick. Not long after, a mysterious woman by the name of Miss Bellows comes looking for her cat. And for some sinister reason, she seems strangely drawn to the broomstick.
Adapted from the story of Indian author Ruskin Bond, the short film The Black Cat, directed by Bhargav Saikia, has been available since mid-November on YouTube. Two weeks too late for Halloween, this film was still a break from the Christmas madness that has already begun.
Genre films
Genre films are very widely represented in North America. Very close to home, in Montreal, there is the Fantasia International Film Festival, which presented, this year, more than 200 films. But it is different for fantasy cinema, horror and science fiction in India, genres that the director particularly likes. His first short film, Awakenings, which I unfortunately did not see, was a horror film.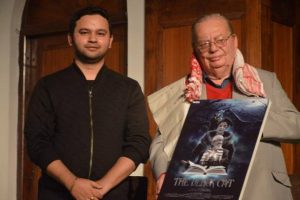 "I was very inspired and I wanted to make another film which would help me grow as a filmmaker within the genres of fantasy and horror. That is when I remembered Ruskin Bond's The Black Cat, a story which I had read many years ago as a school student. The old-world charm of the story, its fine balance between fantasy and the supernatural, the eccentric characters, and the unusual setting were all very exciting to me as a filmmaker."
A horror tale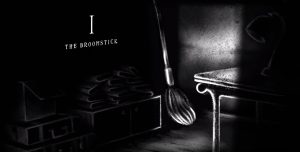 In The Black Cat, the viewer is immediately immersed in the atmosphere of the tale by a division into chapters: The Broomstick, The Black Cat & Miss Bellows. These chapters point out the important elements of the story, also contributing to the appreciation of the younger ones, the very ones to whom the author addressed himself.
The film has a beautiful aesthetic. The old style is interesting, both at the antique store and the writer's old house. The dust that filters in the light gives a very nice effect, as shown in the image at the head of the text.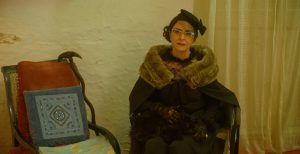 Visually, The Black Cat has a little something "à la" Tim Burton, an influence that the director recognizes. The caricature characters, including the grumpy old man and the eccentric and mysterious lady, are well interpreted.
In the last scenes, we give way to the magic of a moonlit night, where we fall into the purest fantasy. We leave the familiar places for a cemetery. Saikia then adds some interesting visual effects. Realism does not matter anymore.
A short film that will charm young and old alike.
Rating : 7,5/10
Here's the movie: