« Bye byyyyyyyyyyyeeeee baaaaaby. Sooo loooooong baaaaaby… »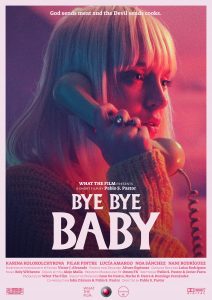 A young woman is about to spend a quiet night at home with the only company of a movie. After a friend's call, everything seems to go wrong. The feeling of anguish and confusion grows every minute at the inexplicable events that are chained in the house and a question runs through her mind, is she really alone?
With Bye Bye Baby, Pablo S. Pastor, who also co-writes the screenplay, offers a magnificent tribute to the horror filmmakers who inspired him.
A mastered style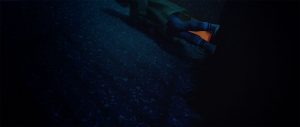 The first thing you notice in Bye Bye Baby is the quality of the image. The lighting emphasizes each action of the characters. The bluish or reddish tints keep the viewer in a constant state of anguish.
Not to mention camera angles. I think of the scene where Heather goes down the stairs. This angle of the camera which lets us suppose a certain madness of the personage.
A successful tribute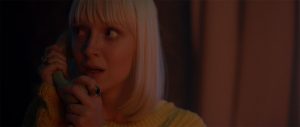 Bye Bye Baby is also a successful homage to the horror movies of the '80s and' 90s. You can think of feature films like Scream or Halloween. Besides, I could not help smiling at seeing the first images of the film, while Heather answers the phone. The plan immediately reminded me of Scream. And here I was again a teenager in front of my TV.
As the film progresses, we can recognize the influences and tributes to the other great ones of the genre: Hellraiser, A Nightmare on Elm Street, and a few others…
Why is this a successful tribute? Because we do not have the impression of a pale copy. Although we recognize the influences of the director, we understand quite quickly that he does not try to take the credits of other films, but rather to create a story while incorporating certain elements of these "classics." And the end is very well done.
But still…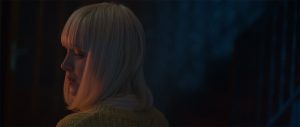 Spending an evening at home has never been so scary for the young woman of the film. But who is hiding in the house? One thing is for sure, Heather will regret not having listened to her girlfriend who suggested she should find someone to spend the night of her birthday.
By the quality of Pastor's directing, Bye Bye Baby is in the official selection at SITGES, and will be presented on October 8, 2017.
After Bye Bye Baby, you won't see the possibility of spending a night alone in the same way!
Rating : 7.5/10