The SIFA Festival is an event, in Canada, entirely dedicated to the recognition and promotion of film and artistic projects that raise awareness of social issues and influence positive changes in society, around the world. It, therefore, went without saying that Le Petit Septième would be associated with it.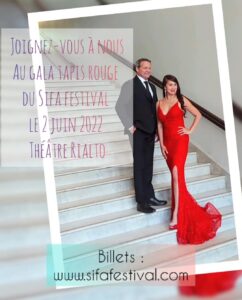 On June 2, the festival and the award ceremony will take place during a magnificent gala at the Rialto Theater in Montreal. As an official partner, we have two pairs of tickets to give away. And who says tickets to give away, says contest!
We are, therefore, giving away 2 pairs of tickets for the gala. Tickets give you access not only to the awards ceremony at the gala, but also to a brunch, a VIP cocktail and the films shown throughout the day. All for a value of $500 per winner.
To participate, just fill out the form below
Why are we engaging people here instead of on Facebook or Instagram? By participating here, your personal data will not be sold to a third party.